It's hard to believe that the holidays are quickly approaching! Cue the lights, music, food and gifts! The holidays are a wonderful time to connect with family, friends and loved ones, which is why if you're planning on hosting guests, your home needs to sparkle with holiday cheer. This is the perfect time to do a little tidying up, and some simple tricks can get you ready for guests in no time! So when you're making your to-do list and thinking about what you need to do to prepare for the holiday season, just remember some advice from the pros. Here are our top tips for getting your home holiday-ready!

Tidying Up
Making sure your home is ready for guests means a little "spring cleaning" especially in some of the following areas of the home:
Main living areas
Guest rooms
Kitchen & appliances
Window treatments
It's a good idea to give your window treatments a gentle cleaning at this time, especially if they are not part of your weekly cleaning routine. For plantation shutters and sheers, gently wipe them down with a soft cloth to remove dirt, dust and debris. For areas prone to moisture, which may have PVC or poly plantation shutters, wiping these areas down with a damp cloth will work perfectly.
Sprucing Up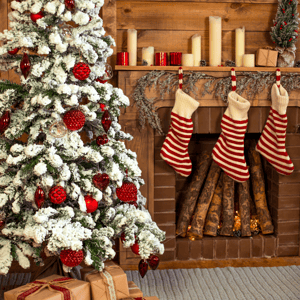 Our tip here is to focus on the areas of the home that your guests will be in the most, not every single square inch of your space. Focusing on every inch of your home can cause too much stress! The main living areas will be the source of most of your holiday traffic, so focus on making these areas warm and welcoming. Decorate for the holiday season and declutter the areas if needed. Areas to target include:
Front porch/entryway
Foyer
Living room
Bathrooms
Outdoor living area
These areas will be where your guests will gravitate toward the most, so making them clean and inviting is important. Here in Southwest Florida, our outdoor living spaces are popular year-round, so be sure to tidy up this space as well. This includes storing your hurricane protection properly, cleaning your outdoor shades and a general clean of the space as a whole.
Guest Set-Up
If you're planning on hosting guests this holiday season, setting them up in a comfortable space is key. Make them feel welcome by ensuring that they have a space to relax and unwind in, and be sure they have the privacy they need. Make the bed, fluff the pillows, provide some extra linens and maybe even some toiletries to set the space up nicely. The key in this area is making sure your guests are at ease and have the space they need during their visit.
Your Home & the Holidays
So, let's bring on the holiday cheer! Tidy up your space, spruce up your home and be ready to welcome your guests in with open arms. It's the season for giving, so give your guests the perfect space to celebrate in this holiday season.