In the weeks following the devastation caused by Hurricane Ian, you may have begun to wonder whether or not you should have done anything differently. Hurricane Ian's arrival was definitely unexpected as many Southwest Florida residents believed it would make landfall farther north; however, it just goes to show how unpredictable these storms can be, and how important is it to be prepared, no matter what. You may think that hurricane protection is hurricane protection, and as long as you have something covering your windows, that's enough. This couldn't be further from the truth, which is why we're here to help you navigate the world of hurricane protection. Remember, not all hurricane protection is the same, and here's why.
Not All Hurricane Protection is Custom Fitted to Your Windows
You may have driven down many streets in Southwest Florida during the past couple of weeks, only to find several homes boarded up with plywood. Although many believe that tacking plywood up on their windows and doors is better than nothing, ill-fitting plywood could actually cause more harm than good. In addition to not being custom fitted to your windows, it's not Category 5 wind load tested, and when it comes to flying debris, anything can puncture these boards at any given time during a storm. Also, when your hurricane protection doesn't fit your windows correctly, pressure can build up in the home, resulting in roof lift-off during a powerful storm, like Hurricane Ian. This can be devastating.
Not All Hurricane Protection is Easy to Deploy
The last thing you want to worry about, while you're preparing for a storm, is having trouble installing your hurricane protection. Between trying to locate the correct panels for the correct windows to finding the hardware needed to install these panels, this can be a stressful process. Metal panels, which can be found on many older Southwest Florida homes, aren't only difficult to deploy, they're also heavy, which means that you'll most likely need assistance when installing them. When you're trying to ensure that you have everything you need to ride out the storm, you don't want to be held back by your hurricane protection.
Not All Hurricane Protection is a Top Pick in the Industry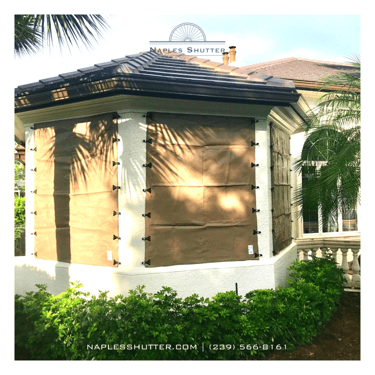 Your family's safety is a top priority during a storm, and not all hurricane protection will offer the security you need. That's why, here at Naples Shutter, we recommend AstroGuard Hurricane Fabric to our customers. Not only is AstroGuard more affordable and easier to deploy than other forms of hurricane protection, it's also:
Category 5 wind load tested
Florida Building Code and HVHZ approved
Lightweight & translucent
Blocks 99% of wind & rain
This is why AstroGuard is so highly regarded in the industry. It's not only highly efficient when it comes to protecting your home, but it's also more manageable for homeowners to deploy, so that they're able to get on with their storm preparations. This is what we use, and this is what many of our customers choose when they want to safeguard their homes against some of the worst weather conditions in existence.
Not all hurricane protection is the same, and if you don't want to worry during the next storm, outfitting your home with the best protection on the market is highly advised. Don't wait until a storm is on its way to get prepared. Start now, so that when another dangerous storm threatens our area, you're ready for it.