The dining room tends to emanate a more graceful, elegant appeal. Perhaps an antique hutch sits in the corner or a handcrafted table occupies the center of the room. You may have more ornate light fixtures and artwork adorning the walls, which calls for window treatments that blend in with the ambiance of the room. Unlike other areas of the home, like the kitchen and bathrooms, which require more durable, moisture-tolerant window treatments, the dining room can showcase more delicate window coverings that mesh with the upscale vibe of the room. No matter the size or the style of your dining room, rest assured there's a window treatment available to add a touch of sophistication to the space, and we're here to help you find the perfect match. Here's how to make your dining room dazzle with these top window treatments.
Luxury Blinds & Sheers
Whether you have a sliding glass door in your dining room, which leads you out to your outdoor oasis or a small set of windows that need to be covered, luxury sheers work magic in this space. Elegant fabrics and designs, paired with delicate color palettes create a soft look in the room that mixes perfectly with many common home themes. From vertical blinds to gliding panels, luxury sheers upgrade the look of any space in an instant.
Plantation Shutters
Everyone knows that if you want to capture the attention of your guests, plantation shutters throughout the home will do just that. What's even more modern is pairing plantation shutters with subtle drapery panels to add a sense of style and contemporary pizzazz to the space. The biggest advantage of plantation shutters is being able to customize them to meet the design requirements of the room. From color to louver size, midrail location to tilt option, you're able to create the window treatments you really want in your home.
Roller Shades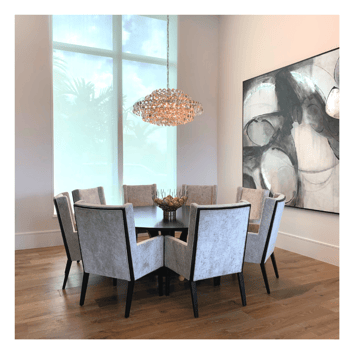 Roller shades deliver an incredibly modern look to any space. Simplistic, yet refined and contemporary, roller shades aren't just stylish, they're also highly functional, adding privacy to the space, while reducing harmful UV rays that can enter your home. With many fabric options available, you're able to find the look that you're desiring in this particular room in the home.
Other Popular Window Treatments for the Dining Room
Depending on the overall theme of your home, whether you've embraced the rustic farmhouse vibe or modern minimalism, there's a window treatment out there that will work for you. Other favorites include:
Woven wood shades
Solar shades
Drapery panels
Roman shades
By choosing a window treatment that complements the style of your space, you'll be able to maintain continuity throughout all areas of the home, including the dining room.
Your Dazzling Dining Room
You may not use your dining room on a regular basis, but when you do, it needs to impress. Whether you're entertaining guests from out of town or hosting a holiday celebration, the dining room will undoubtedly be a part of it all. Opting for a more refined and elegant look in the dining room is popular with many Southwest Florida homeowners, who choose to leave other areas, like the kitchen and breakfast nook rather casual. The dining room, on the other hand, requires a look that's sharp, stylish and beautiful, and if you're looking for the best window treatments for this area of the home, place your focus on the products we discussed for eye-catching results.