Designing a home, whether you're utilizing the expertise of a professional or you're tackling it yourself, takes time, attention to detail and being up-to-date on the latest trends. If you read our last blog about the hot window treatment trends for 2021, you'll notice that more often, window treatments are put into the spotlight, acting as modern-day décor for any space. Gone are the days of your window treatments just blending in. When you're searching for ways to add some uniqueness to a room, you may want to consider doing this with your windows. So get ready to express yourself...it's time to make a statement with these unique window treatments.
Woven Wood Shades
Woven wood shades bring that perfect element of nature into any space. Constructed of reeds, grasses, woods and other organic materials, woven wood shades not only add texture and depth to a room, they also offer a unique style as well. With so many options to choose from, including different patterns and textures, classic or vertical styles and more, you're able to create a look in the space unlike any other. And because these shades are made of natural materials, no two shades are identical, adding even more excitement to the look. For those who are looking to embrace more nature into their homes, woven wood shades provide a balance between style and function and are full of distinct character.
Stained Plantation Shutters
Nothing can quite come close to the regal look of a rich stained set of gorgeous plantation shutters, especially in areas like dens and offices. Not only do plantation shutters complete the look of a home unlike any other window treatment available, stained shutters add a level of luxury that can't be beat. Match your shutters to a piece of furniture or set of built-in cabinets in the room for a more completed look. Durable, extremely functional and beautiful, stained plantation shutters just emit an air of refined sophistication in a space.
Roller Shades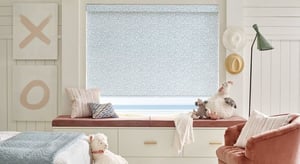 Another type of shade that can be customized to fit your personalized style is the roller shade. With hundreds of fabric choices available, you're able to find the color, pattern and texture that meets your needs. If you tuned into our last blog post, you may remember reading that a big trend in window treatment design this year is your window treatments acting as art. Choosing a fun pattern for your roller shades adds interest to a space. So if you're in the mood to step outside the box, go ahead and choose a compelling pattern or vibrant color to complement the look of the room.
Painted Plantation Shutters
Many believe that plantation shutters are only available in white or off-white, but the truth is they can be painted any color of the rainbow! Need to add some excitement to your child's room? Try a bright color for their shutters. Want to add interest to a modern living area? Try a rich, dark color to contrast with the neutral tones of the room. Plantation shutters can also be crafted with a variety of options like:
Louver size

Midrail location

Specialty shapes

Tilt rod position
If you're looking for a functional and stunning way to make your windows pop, colorful plantation shutters can help.
Whether you're looking to make a big statement or simply add some interest to a room, your window treatments can make a big impact. Choose what works for your space and remember to have fun in designing the window treatments that work for you.