Any Floridian knows that hurricane season takes up a large portion of the year, and just because the end of season is quickly approaching, it doesn't mean that it's time to let your guard down. From June 1st until November 30th, the Atlantic Hurricane Season keeps us on our toes here in Southwest Florida, and from preparing our hurricane kits to securing our hurricane protection, we always preach the same message...stay prepared. So, although we're nearing the end of the season, what does that mean exactly and what steps should you take moving forward?
When it comes to Hurricane Season 2021, the end is near, but the season is far from over.
What Months Are the Worst For Hurricanes?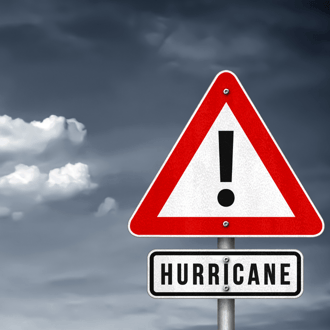 If you've tuned in to our regular updates on Hurricane Season 2021, you may know that we've just passed the peak of season and we are closing in on the end of season. Just over a month of hurricane season awaits, and as the waters begin to cool and humidity levels drop, the chances of a hurricane developing start to decline. August and September are known as the peak, where the waters in the Gulf are warm and moist and humid air pairs with this warm water to form a hurricane. These two months are typically when we tend to experience more activity; however, we're not out of the woods just yet. It's still hot and although the humidity is beginning to drop, it's still a recipe for a substantial hurricane to develop.
How to Prepare For the End of Hurricane Season
The ultimate key in hurricane preparedness is to never let your guard down. Don't use up all of that canned food you saved for your hurricane kit or the extra gas you purchased at the beginning of season for your generator. Don't pack your hurricane protection back into the garage, and do not think that just because it's October that a hurricane isn't still a possibility. Continue to listen to the weather and be informed of various storms that may affect our area. The worst thing you could possibly do is think that it's over, because with the steamy weather we're still experiencing, it definitely isn't over.
Steps to Take Once Hurricane Season Ends
November 30th signifies the end of another hurricane season, and if you think that it's time to sit back and relax until May, think again! Now is the time to take some helpful and necessary steps to ensure that you're well prepared before next season begins, including:
Checking your hurricane protection and repairing/replacing, if needed.

Packing your hurricane kit away somewhere safe, and buying additional supplies, if necessary.

Making a plan for next hurricane season, so that you're prepared early.
It's important to get prepared before next season begins. After all, once a hurricane is on the way, stores will be low on inventory of necessities, like canned food, water and batteries, gas stations will have lines wrapped around the corner, and it will be too late to order hurricane protection. In handling a lot of these steps now, you'll set yourself up for success next year. So remember, even though we're approaching the end of hurricane season, it doesn't mean that it's over. Continue to be diligent in hurricane preparedness, so that you and your family remain safe.