If you've kept up with us throughout the years, you know that we keep you up-to-date on all things hurricane during the months of June through November. It's important to be prepared for anything Mother Nature throws at us, so knowing what to expect with each hurricane season is crucial. No two hurricane seasons are alike. Some seasons are mild, while others give us storms of catastrophic proportions. Being prepared will always put you a step ahead of the storm, and that's why we're here. A few months ago, we talked briefly about what to expect this hurricane season, but do these predictions still ring true? When it comes to Hurricane Season 2019, here's what you should know.
The Forecast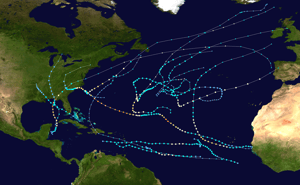 It's no secret that we've been getting some pretty steamy weather the past month, so how does that impact our hurricane season? Well, if you remember, hurricanes form from warm water...the warmer the water gets, the greater the chances of a storm developing. The National Oceanic and Atmospheric Administration, better known as NOAA, has predicted a near-normal hurricane season this year with four to eight major hurricanes, and the Colorado State University has upped its original prediction from five major storms to six in the recent months. Major storms consist of Category 3 through Category 5. The category of the storm is based on wind speed.
Although that is slightly higher than some original predictions, it's still a fairly normal season so far, but as you may already be aware, circumstances can change quickly, so it's best to be alert and be prepared.
How to Prepare
We cannot control the weather, but we can prepare for it, making hurricane preparation one of the most important aspects of the season. Here's how you can prepare your home and your family should a serious storm wreak havoc on our area. Remember these key tips:
Outfit your home with proper hurricane protection.
Gather the necessary items for your hurricane kit.
Know your evacuation route.
Have a plan and ensure every member of your family is aware of it.
Stay tuned to weather updates.
Don't ignore any warnings to get out.
An approaching storm is nothing to take lightly. Be sure that you, your family and your home are protected and safe by implementing these crucial elements into your plan. Even though we may not experience a hurricane this season, it doesn't mean that next season will be the same. It's better not to risk jeopardizing your family or your home.
Why Hurricane Protection is Crucial
Don't wait until it's too late to decide to outfit your home with hurricane protection. Chances are if you wait, companies won't be able to fulfill your order in time for the storm, leaving you with no protection at all or ill-fitting hurricane protection. Remember, improperly fitted hurricane protection can result in a build up of pressure in your home, which can lead to roof lift-off during a storm. Don't make this devastating mistake. Prepare now, so that you can rest easy later.
With Hurricane Season 2019 in full swing, one thing is certain...predictions are only predictions, and there's only so much technology available to accurately diagnose each individual hurricane season. That's why it's best to be prepared, no matter what. Listen to the experts, get organized and protect the people and things that matter most to you this hurricane season.