Weather forecasters are calling for an above average hurricane season this year. With three major hurricanes hitting the U.S. last year, Harvey, Irma and Maria, it seems as though this year we can expect just as many if not more hurricanes to make landfall. According to Colorado State University, this hurricane season will bring 14 named storms. Seven are expected to become hurricanes while three are expected to be major hurricanes. The chances of a hurricane making landfall this year is over 60% which is well above the average of 52%. Keep reading to learn how you can help prepare your family and your home.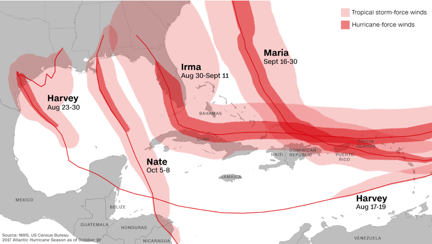 When is Hurricane Season?
Hurricane Season officially starts on June 1st, which means that it's just around the corner! With the bulk of the storms taking place between mid-August and mid-October Hurricane Season lasts for 5 months, ending on November 30th. It's important to watch the news or listen to the weather channel because the earlier you know about what's to come, the easier it is to prepare.
How Do Hurricanes Form?
Hurricanes are known for being the most violent storms on Earth and are fueled by warm, moist air. Hurricanes can only form over warm ocean waters near the equator which includes the Atlantic Ocean or eastern Pacific Ocean. This explains why the 2017 hurricane season had ramped up compared to previous years. The near-record warm temperatures in the Atlantic that occurred last year are what lead to a busy hurricane season. This year the chances for several hurricanes to make landfall is even higher.
What to do to Prepare
What should you do to prepare your home and your family before the next major storm hits? The first thing you should think about is protecting your home. Having proper hurricane protection is imperative, such as:
AstroGuard Hurricane Fabric
Rolldown or Accordian Shutters.
Make sure that you are fully knowledgeable on how to secure your home in the event of extreme
winds, storm surges and flooding. Learning how to install or deploy your hurricane protection before the storm is crucial. Next, have each member of your family put together a hurricane kit. The kit should include things such as:
Non-perishable food and snacks
Water
Personal hygiene items
Flashlight with extra batteries
Can opener
Books, magazines and games
Pet supplies, if you have a dog or cat
Baby supplies if applicable
If you experience the loss of power in your home, consider having these items to help keep you safe:
Gas- make sure your tank is full ahead of time. Do NOT wait until the last minute, as lines will be extremely long and gas stations will most likely run out of gas early.
ATMS- Stop at your local ATM Machine to have extra cash handy for emergencies.
Electronics- Items such as cell phones, laptops, tablets, or iPad should be fully charged.
Water- it is important to fill up your bathtub and/or large containers with water for flushing and washing ONLY.
Food- If you expect your power to go out, turn your refrigerator temperature down and/or freeze the food and drinking water that can be frozen.
Remember to always listen to what weather forecasters, news reporters and officials are saying. As with any major storm, it's hard to predict the eventual outcome. If your family is prepared and your home is secure, it could help prevent destruction and considerable setbacks.
Who Can Help?
Naples Shutter is here to help you and your family get ready for whatever storm may come. With over 30 years of experience we're here to get your hurricane protection up and ready. We know that protecting your home can be a task that you may not want to accomplish alone. We're here to help. Get started today and call us for a free consultation (239) 566-8161.