When it comes to protecting your home during hurricane season, there are a variety of products available that claim to do the best job. But how can you be sure? When a devastating hurricane is making its way toward our shores, you don't want to risk damage to your home or worse with inadequate hurricane protection. Here at Naples Shutter, one of our top recommended products for protecting your home from inclement weather is AstroGuard Hurricane Fabric. Although hurricane fabric might be the right choice for some Southwest Florida homeowners, it may not always be right for others, who desire a more permanent option. Let's weigh in on hurricane fabric versus one of our more permanent options for hurricane protection, accordion shutters, and talk pros and cons.

Hurricane Fabric: The Pros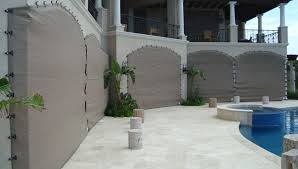 AstroGuard Hurricane Fabric, the product that Naples Shutter uses on its factory, is a resin-coated hybrid fabric that is 40% stronger than polypropylene and safer and easier to deploy than many other forms of hurricane protection on the market today. AstroGuard is a trusted source in the industry, due to its ease of use and unmatched protection during even the worst storms. Key benefits of AstroGuard Hurricane Fabric include:
Category 5 wind load tested
Translucent appearance
Lightweight and easy to deploy
100% UV resistant
Protection from flying debris
AstroGuard is also Florida Building Code and HVHZ approved. It may sound like a no-brainer, but some homeowners choose to have something that is already installed on the home. There are limitations to AstroGuard as well. Let's discuss...
Hurricane Fabric: The Cons
For homeowners who want their hurricane protection already installed on their home, AstroGuard may not be for you. Although it is lightweight and extremely easy to deploy, some homeowners don't wish to take it upon themselves to deploy it or simply cannot take on this task. AstroGuard will also need a small storage space when it is not deployed. Although very compact and fitting nicely into specialized bags, this will still need to be taken into consideration when looking into hurricane protection for your home.
Accordion Shutters: The Pros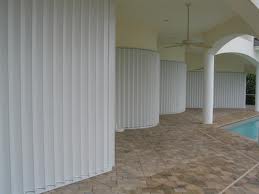 Accordion shutters are permanently fixed to your home, making them desirable for those who don't want to worry at storm time. Utilizing a top and bottom track system, accordion shutters feature self-mating vertical slats and operate on a stainless steel roller-carriage system. The system includes a handle or a key lock, which can be installed on the inside, outside or both sides of the system. Key benefits of accordion shutters include:
Permanent installation
Ability to remove the bottom track to avoid tripping when not in use
Different stacking options available
If you're looking for a more permanent option for your home, accordion shutters may be right for you. As with any product, they also have their limitations.
Accordion Shutters: The Cons
Although these are a more permanent option, they are also more expensive compared to hurricane fabric. When deployed, accordion shutters have a tendency to give off a 'cave-like' feeling in the home as well. This can deter some homeowners from choosing this option for their home's hurricane protection.
The Right Choice For Your Home
Protecting your home and your family should be at the top of your priority list, which is why investing in proper hurricane protection is imperative. The weather can change at the drop of a hat, and while there aren't too many storms predicted during Hurricane Season 2019, that can change in an instant. Be prepared with the right protection that not only stands up against dangerous weather, but will work for you and your home.