In recent years, many homeowners are seeking to move away from the grand Tuscan look into a more modern, contemporary vibe. The large columns, arched openings and stoned walls, reminiscent of the architecture in Italy are being replaced by clean lines and a minimalist look. If your home is still accentuated with Tuscan appeal, it can be easy to modernize it with your window treatments. When it comes to the exterior of your home, adding Bahama shutters can help you take your home from dated to stylish in no time. Here's how to transform your home from Tuscan to contemporary with Bahama shutters.

Add Some Color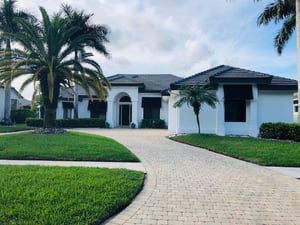 What many of us remember most about the Tuscan craze was the lack of color in the home. Tuscan style homes were primarily found in hues of brown, gold and beige to emanate the traditional designs found in Tuscany, Italy. And unfortunately, bright, vibrant colors were nowhere to be found. Modern design opts to add color into the space both indoors and out, and Bahama shutters can help add that element of contemporary style to your home's exterior. Some homeowners choose to go bold with bright blues and greens, while some choose to accent their home in dark hues, like chocolate brown and black to contrast with the white exterior of the home.
Bahama shutters help to add a modern look to the home's facade and are available in over 200 powder coat colors, giving you options when it comes to modernizing your home.
Cover Those Arches
One of the main Tuscan trends was arched openings. Not only do arches date the home, many buyers are not interested in Tuscan style homes, so bringing your home into the latest design style is key if you're looking to put it on the market. Resurfacing your home and eliminating the arches can be costly, but with Bahama shutters, you can limit their appearance without breaking the bank. Bahama shutters can fit nicely over arched windows, covering them as if they never existed in the first place! Not only do you save money, you add an element of modern architectural appeal to your home, increasing curb appeal and resale value in the process.
Bahama Shutters for the Modern Home
Bahama shutters are being utilized more and more by homeowners in Southwest Florida. Not only do they offer island appeal and a sleek, modern look, they also come with a variety of benefits. These include:
Ability to prop open fully, halfway or closed
Constructed of a sturdy extruded aluminum
Available in durable powder coat options
Provide ample shade
Reduce energy bills
Available in hurricane impact-rated options
If you're looking to revitalize your home and bring it into the next era of modern design, it's possible with Bahama shutters. Enhance the look of your home's exterior with a clean, modern touch without having to tear down and rebuild. It may seem like those arches will never go away or you can never get rid of those ornate columns, but with a few easy tweaks, your home can become a modern space in no time.