It's no secret that Florida is attracting more visitors and residents as the years go on, and one of the main reasons to visit is due to our extraordinary weather. Balmy breezes, sunshine filled days and the salty sea air make Southwest Florida one of the most popular destinations in the country. Whether you live here year-round or you're just visiting, it's important to enjoy this beautiful scenery to the fullest, and for many, that means letting the light shine brightly in the home. Natural light does wonders for the overall feel of your home, as well as your own well-being. With all the sunshine we get in a year, taking advantage of natural light is effortless here, and some window treatments can help maximize brightness better than others. Here's how to let more light into your home with your window treatments.
Choose Larger Louvers
Louvers are the moveable slats on plantation shutters, and if you've chosen shutters for your home, deciding on larger louvers will allow you to take advantage of optimal light. The bigger the louvers, the more light you're able to let in when you tilt them open. Opting for a midrail will allow you to operate the top and bottom shutters independently, so if you desire privacy, as well as light filtering abilities, you can have both with a midrail.
Opt for Top-Down Bottom-Up Shades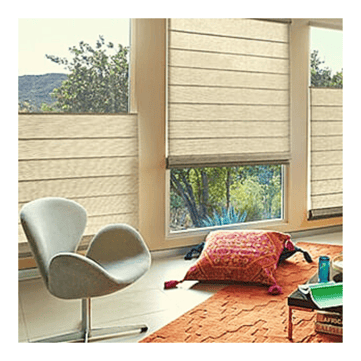 Top-down bottom-up shades allow you raise your shades from bottom or lower them from the top. This is helpful when you wish to let more light into the room, while also enjoying the level of privacy you're looking for in the space. With top-down bottom-up shades, you're able to create the ambiance you want in any area of the home.
Add in Natural Elements
Another way to optimize light in the room is by choosing shades that combine natural materials to provide a soft glow to the room, as opposed to complete openness. Options, like woven wood shades, are made from reeds, bamboo and other natural materials, and they provide just the right amount of light filtration. This creates a cozier look in the space.
Decide on Sheerness
When shopping for window treatments, blinds especially, you'll want to take into consideration the level of sheerness you're looking for when it comes to your windows. Sheerness is determined on a five-point scale:
Level 1: Minimal light blocking abilities, minimal privacy
Level 2: Diffuses sunlight, offers more privacy
Level 3: More diffusing properties, maintains privacy
Level 4: Ample privacy, almost complete blockage of light
Level 5: Blocks all light, maximum privacy
The sheerness level you choose may vary, depending on the room. For instance, bedrooms may be at a Level 5, while sunrooms will most likely be at a Level 1 or Level 2.
Letting the Light In
Summertime is approaching and that means longer days and more sunlight. It also means higher temperatures, which may have you inside a bit more, at least until it cools off a bit at night. While you're inside, you'll want to enjoy the weather in the comfort of your air conditioning, and what better way to do that than by letting ample light shine through your windows? Remember some of these products and options when you're designing your window treatments and you'll be on your way to creating the ultimate Southwest Florida ambiance in your home.