Whether you bought your home with window treatments already installed or you hand-picked them room-by-room, there may come a time where you'll need to upgrade your window treatments. After all, your windows and how you cover them can say a lot about a particular space, and when you leave old, outdated window treatments in place, you're not taking advantage of a room's full potential. As trends continue to evolve, it only makes sense that some come and go, so if you're struggling to enhance the appeal of your home, maybe your window treatments are to blame. Here's how to know when it's time to replace your window treatments.
They're Broken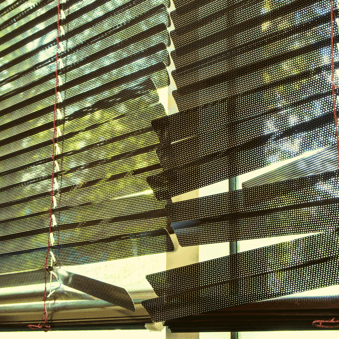 This one may be obvious, but with everything that goes on during any given day, it's understandable to let small things fall by the wayside. Warped shutter louvers, broken blind slats and other damage may tend to just blend in after a while, but not only do these damaged goods make your home look bad, they also make your window treatments difficult to operate. If you're finding that your blinds are getting even more challenging to open and close or your shutter louvers just don't seem to want to stay open, it may be time to upgrade to some new window treatments.
They Don't Go With the Flow
Depending on how long you've lived in your home, you may have gone through several design refreshes throughout the years, which is normal, seeing as trends change regularly. If you're finding that those dark stained shutters no longer offer a regal look to the light and bright space you're trying to convey, it may be time for an upgrade. And if those simple honeycomb shades are just too bland and boring for the space, it may be time to enhance them by choosing woven woods or more decorative options. The point is, if your window treatments aren't meshing with the overall flow of the home, they may need to be replaced with something else.
They're the Wrong Fit for the Space
Another thing you'll want to keep in mind is what types of window treatments go in the various rooms of your home. For instance, moisture-prone areas, like garages and bathrooms require water-resistant window treatments. You'll also want to address irregular openings, which can warrant different styles of shades or shutters that are unique from the rest of the home. If your vertical blinds are hindering your ability to use your sliders, it may be the perfect time to upgrade to custom plantation shutters or something more suitable for the opening.
Your Window Treatment Options
Remember, you have options when it comes to the window treatments you choose for your home, including:
Custom wood plantation shutters

Poly plantation shutters

PVC shutters

Blinds & sheers
The important aspect to keep in mind is to choose your window treatment products based on your home's unique style and needs. When you do this, you'll be able to find the window treatments that complement the space perfectly. If you're wondering why your home's design isn't working for you, despite efforts to enhance its appearance, it may be your window treatments that need a little work. Keep these tips in mind, so that you're able to enjoy your home, no matter which room you're in, to the fullest.