Your hurricane shutters go through a lot of wear and tear each season. Did you know that you should inspect them after each hurricane? Most people don't really keep this in mind after taking their shutters down, but a major hurricane can leave some unforeseen damage to the hurricane protection that you use. At Naples Shutter, we're here to make sure that your house is protected during Hurricane Season 2018. Here are some tips as to how you can keep your hurricane shutters in tip-top shape…
Store your hurricane protection properly
If you purchased your hurricane protection through Naples Shutter then you either have the AstroGuard hurricane fabric, Rolldown Shutters, or Accordion Shutters. When you have AstroGuard installed to protect your home, the fabric comes with its own storage bags. Make sure you fold them neatly and properly. These bags take up very little space so store them where they are easy to grab, such as:
Attic
Storage unit
Garage
Large closet
Our Rolldown and Accordion Shutters can be used throughout the year because they are permanently installed unlike AstroGuard.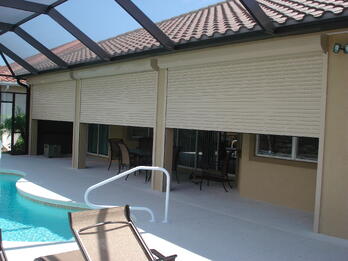 Have your hurricane protection inspected annually
Give yourself peace of mind knowing that everything is working properly. Make sure the fabric, parts and pieces are in great condition. Inspecting your hurricane protection is something that you can do on your own, if you have the time and insight, but it never hurts to be on the safe side and hire a professional. When it comes time for inspection, make sure you or the person you hire checks for these things:
Check to see that the motor and crank are properly working.
Check for any dents or cracks.
Look for missing or broken slats and parts.
We recommend having a professional come out to your home to inspect your hurricane shutters before hurricane season starts! Once everything is properly looked at and evaluated, fix anything that is broken, right away. Make sure to get the repairs done before the next storm hits. In some cases, repairing rather than replacing may be cheaper, just make sure that you give yourself enough time and then you don't actually need to replace anything.
Keep your hurricane protection clean
Our AstroGuard Hurricane Fabric is easy to clean and maintain. All you need is a mild detergent and warm water. Don't use any harmful chemicals or bleach-based products as they may cause damage to the fabric. On the Hurricane Fabric website you can find a "User Guide & Documents" page where you can read up on the best way to clean your hurricane fabric. If you have the Rolldown or Accordion Shutters they can be washed with a mild soap, warm water and soft brush. Make sure to remove any debris and build up. This includes things such as:
Dirt
Salt
Insects and nests
Having safe hurricane protection is important when it comes time for hurricane season. Here at Naples Shutter we always want you, your home and your family to be safe during a major hurricane. If you have any questions on how to maintain your hurricane protection don't hesitate to call. Visit naplesshutter.com or call (239) 566-8161 today.