We live in a time where modern minimalism is taking over in our homes and beyond. Clean, crisp features with sparse details sprinkled throughout create a look that's not only calming, but functional as well. Clean lines and less clutter make a home easy to look at, not to mention a breeze to clean, and your window treatments can play a big role in achieving this in your home. Window treatments take up a larger area than you may realize in each room, so being able to accent the space and really make it your own is possible with the right product on your windows. If you're looking to create a modern look in your home, you'll want to take some tips from the design pros first, so that you're pleased with the end result.
Here's how to create a modern look with your window treatments.
Layer It Up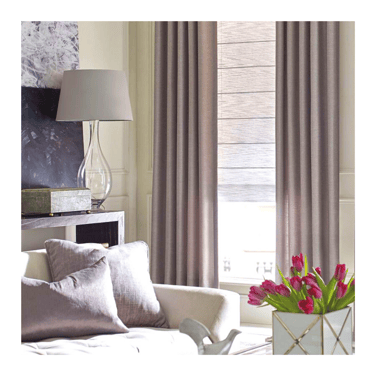 Layers are becoming a huge trend in the home design industry, as you're able to pair a functional shade or shutter with a stylish drapery panel to achieve that contemporary look you desire in your home. The key here is to keep whatever type of shade or shutter you choose neutral, while finding a drapery panel that adds just the right touch of interest to the space. From stripes and other shapes to detailed designs, solid colors and patterns, the selection of options you have is seemingly endless. You're also able to pair shades and shutters together to add a hint of modernism, as well as functionality to the space, especially if you opt for blackout shades for maximum privacy.
Keep It Light
One of the best practices to keep your home as timeless, yet on trend as possible, is maintaining a light and bright look throughout. Darker-hued shades and rich stained shutters tend to make a space feel smaller, letting less light in. By making the switch to crisp white plantation shutters or neutral-toned blinds, you're able to keep the room light and airy, which is exactly what modern homes radiate throughout every corner. Keep the color to items that can be easily replaced, like throw pillows, lamps, knickknacks and artwork, since these items will likely change more frequently than window treatments, furniture and paint colors.
Choose Modern Products
There are some window treatments that are long outdated, which will in turn, make your home severely outdated as well. Sticking to on-trend window treatment products will allow you to heighten the modern appeal of your home. Plantation shutters are by far the most timeless and classic window treatment product you can choose for your home. Not only can they be customized to meet your design vision, they never go out of style. Other contemporary window treatments include:
Roller shades
Poly plantation shutters
Wood & faux-wood blinds
Luxury sheers
The product you choose for your windows will make a big difference in the room, so being able to choose something that's in-line with your style, as well as your budget is imperative.
The Modern Home
Today's modern home is clean and well-organized. It features innovative storage solutions, a bright, cheery ambiance and designs that carefully accentuate an area. This means that the window treatments you choose should blend in effortlessly with this look, not take away from it. In keeping these ideas in mind, you'll be able to design the window treatments that not only complement your space, but take your home to a whole new level.