Plantation shutters are a popular window treatment choice for homeowners looking to add more charm and personality to their homes, and our flagship product here at Naples Shutter. These durable window treatments give you full control over the amount of light in a room, stand up well to daily wear and tear, and give your home a unique look.
But many homeowners fall in love with and install plantation shutters before learning how to properly clean and care for them. Luckily, it's not hard to do. Keep reading to learn everything you need to know about cleaning and caring for plantation shutters.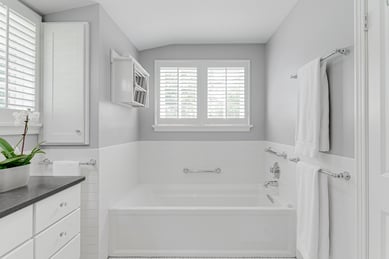 Cleaning Plantation Shutters: The Basics
Perhaps your plantation shutters are located in your living room, primary bedroom, or throughout your entire home. No matter where you have them, it's important to dust them regularly to prevent dirt and dust from building up.
Whether your plantation shutters are made of wood, PVC, or some other material, you can use any regular duster to swiftly remove dust that collects on the surface. You should dust your shutters at least twice a week. If they are in high-traffic areas, they may need more frequent dusting.
Approximately once a week, use a damp cloth to wipe down your plantation shutters, paying special attention to the louvers. Follow up the damp cloth with a dry one to prevent water streaks from forming.
In addition, you should move and adjust the louvers as needed to clean the entirety of the shutter. Make sure to always adjust the louvers by gently grabbing them in the middle. Grabbing on the sides or using excessive force may damage your shutters.
The good thing about plantation shutters is that they have wider louvers than traditional shutters. This cuts down on the number of individual louvers you must clean and gives them added strength to withstand everyday usage.
Bonus: Cleaning Exterior Shutters
Cleaning and caring for shutters outside your home is just as easy as — if not easier than — the indoor ones. Exterior shutters are designed to withstand more extreme circumstances than interior shutters, meaning they don't have to be dusted and cleaned quite as often.
You should also aim to wipe down your exterior shutters about once a month with a damp cloth to remove impurities that may collect on the surface, such as:
Dirt

Pollen

Dust

Mud

Bugs

Bird droppings



At least once a month, you should also remove the shutters from the hinges entirely to give them a deep clean. This helps you target the dirt that builds up on the hinges over time that you cannot typically reach.
Many exterior shutters are just for appearance and are not used that often. That's why it's important to move the louvers around regularly to prevent them from locking up and getting stuck.
Keep Your Shutters Looking Their Best with Naples Shutter
Even well-maintained shutters experience problems every now and then. Whether a louver snaps, a magnet gives out, or your shutters just need a new coat of paint, you can count on Naples Shutter to provide the professional solutions you need. Contact us today to schedule your shutter consultation or repair service.