Nowadays, it's all about saving money. More often than not, you find yourself asking, "How can I get the most out of what I buy?" Choosing your window treatments should be no exception. The product must complement the space and must work with your budget. But can your window coverings help in more ways than you think? Can blinds really lower energy bills?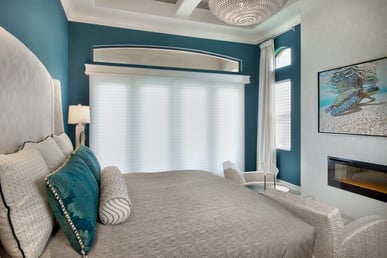 Let's find out!
Being Energy Efficient
Deciding to install blinds in your home is a great first step toward being energy efficient; however, certain factors must be taken into consideration, or else your efforts will be wasted. Lowering your energy bills can be an easy process if you follow these simple suggestions.
It's All About The Installation
To ensure that you are getting the most out of your blinds, you need to be sure that they are mounted correctly. This means that they must be mounted as close to the glass as possible and up against the adjoining wall. This technique creates a tight seal and helps to prevent heat from entering the opening. This, in turn, keeps your air conditioning from working overtime to help cool the space.
Choose Your Fabric Wisely
When shopping for blinds and shades, try to choose a product with dual fabric layers. Many options come with a lighter color on one side (normally to blend into the space) and a darker color on the other (to help block out the light pouring into the room). If the product that you choose permits, you can also flip the shades based on the season. The white side reflects the heat in the summer months and the darker side absorbs the heat in the winter months.
Think About Location
Fabric shades are great in any location in your home due to their flexibility with fabric choices and installation options. Traditional wood or exterior blinds are better utilized on south and western-facing windows. Exterior blinds are a great choice, due to the fact that they stop the heat on the outside, before it even gets the chance to penetrate the interior of your home.
Did You Know? Reflective blinds have the ability to reduce up to 45% of heat gain.
How This Impacts Your Energy Bill
Allowing less heat into your home prevents your air conditioning from working double time. The same goes for those who live where it gets chilly in the winter. Allowing less heat to escape your home helps lower your heating costs. It's a win win, no matter what time of the year it is.
What We've Learned
So the next time you are shopping around for window treatments, consider choosing blinds and remember these key tips in ensuring that you get the most energy savings out of your new purchase:
Proper mounting ensures that less heat will escape or penetrate the opening.

Shades with dual fabric layers block out heat and can be reversed, based on the season.

Choose the right product for the window location in your home to maximize energy savings.
There you have it! Blinds really can lower your energy bill and with proper knowledge on installation and products, you are on your way to saving money.