Hurricane fabric is a popular choice for homeowners looking to protect their homes from strong winds and flying debris during a hurricane. But does it actually work?
To answer this question, it's important to understand what hurricane fabric is and how it's designed.
What Is Hurricane Fabric?
Hurricane fabric is a lightweight, woven hybrid material treated with a special resin coating. It's designed to resist water and UV light and is strong enough to withstand hurricane-strength winds and flying debris.
Benefits of hurricane fabric include: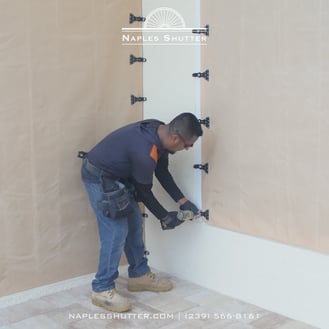 Quick and easy installation
Lightweight, compact construction
Improved natural light permeability
Superior versatility and reusability
The flexible, lightweight fabric wraps around your entire home to cover all openings — including windows, doors and lanai openings — and acts as a barrier to help prevent structural damage during a hurricane.
Does Hurricane Fabric Really Work?
For many people, hurricane fabric sounds too good to be true. But the reality is that it's been shown to be effective at protecting homes from strong winds and flying debris. Let's discuss some reasons for that.
Factors that Contribute to Hurricane Fabric's Effectiveness
Although hurricane fabric is generally thought of as rugged and dependable, there are a couple of factors that impact its effectiveness.
Quality
Not all brands of hurricane fabric are created equal.
You should look for a fabric that's made from high-quality synthetic material and features a strong, durable coating, such as AstroGuard. AstroGuard is one of the most well-known hurricane fabric brands on the market, and its reputation speaks for itself.
Installation
Another major factor in the effectiveness of hurricane fabric is how it's installed.
Fabric that isn't set up properly won't provide the same level of protection. Therefore, it's important to carefully read and follow the manufacturer's instructions to the letter to ensure that the fabric is properly placed and secured.
Insurance Benefits
Installing hurricane fabric on your home could possibly reduce your homeowners' insurance rates. It is a widely accepted form of wind mitigation, so be sure to check with your insurance company before deciding which type of hurricane protection to purchase.
What Can Hurricane Fabric Not Do?
It's important to remember that hurricane fabric is just one way to prepare and protect your home from the effects of hurricanes. They're not a one-size-fits-all solution to hurricane preparedness — you should still take all the necessary steps to protect your home and family in the event of a hurricane.
Is Hurricane Fabric Right for Me?
If you live in an area that's prone to hurricanes, hurricane fabric is a cost-effective and low-effort way to reinforce your home.
At Naples Shutter, we can help you determine whether hurricane fabric is right for you. Contact us today to schedule your free consultation.