From picturesque natural landscaping to a world-renowned golf course, exquisite homes to an abundance of amenities, there's something about Treviso Bay that has Naples residents in awe. Whether you're a full-time or a seasonal resident of Southwest Florida, Treviso Bay offers some of the best golfing, dining and activities available in the area, making this beautiful oasis a sight to explore. If you're looking to settle into Naples life for the first time or if you're looking for a change of scenery, you'll find it at Treviso Bay. This month's community spotlight lets you discover all that this pristine, elegant and gorgeous community has to offer.
Welcome to Treviso Bay.
Why Treviso Bay?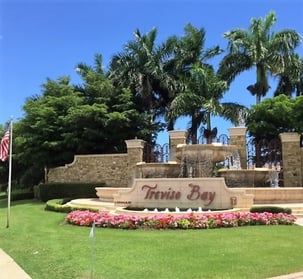 Not only will you find magnificent homes here, you'll also be able to take advantage of first-class amenities, like an award-winning golf course, resort-style living and an enhanced dining experience. Yes, you really will be living your best life when you choose to settle in at Treviso Bay, and that's not all...with two immaculate clubhouses featuring all you need to stay active, pampered and blissful, you'll see why more and more residents are choosing Treviso Bay for their next home. Let's explore what makes this fine community so impressive.
A Legendary Golf Experience
Perhaps most extraordinary is Treviso Bay's world-class golf course. With a seamless blend of timeless class and modern convenience, TPC (Tournament Players Club) Treviso Bay is more than just golfing. With 18 holes of incredible golf, built by architect Arthur Hills, the golf course at Treviso Bay truly offers an elevated experience. From personalized service to a can't-miss golf shop, featuring PGA TOUR items, you'll have the privilege of taking advantage of golfing at its best. If you're looking to up your golf game, you have to try TPC Treviso Bay. Challenge yourself, improve your game and enhance your mood when you choose to golf here.
Other World-Class Amenities
In addition to unbeatable golfing, Treviso Bay also offers a wide variety of amenities, designed to help you stay active and content. These include:
Professional tennis courts

Two private clubhouses

Fitness center

Fine dining

Retail shops

Aerobics & Pilates studio
With state-of-the-art equipment, you'll be able to stay fit and active in the fitness center and with a dedicated aerobics and Pilates studio, you'll be able to condition your body, so that you can be in the best shape. If you've worked up an appetite, visit one of the delightful dining establishments and choose from a variety of fare. From private to outdoor dining options, Treviso Bay has something for everyone.
Spectacular Homes
Mediterranean-inspired architecture adorn the homes in Treviso Bay, and with a variety of home styles to choose from, you'll be able to select the perfect home for you. From condos and coach homes to manor and estate homes, Treviso Bay offers the ideal spaces for any lifestyle. Multiple floorplans and sophisticated design pair with customization options to capture the essence of your Southwest Florida experience so that you're able to design the home that suits your desires.
Your Life at Treviso Bay
As your eyes rest upon the grand entryway featuring impressive, intricately-designed fountains, you'll be able to tell that Treviso Bay is a place like no other. As you experience upscale amenities, legendary golfing and stunning homes, you'll know that you've found where you're supposed to be, making Treviso Bay the perfect slice of paradise.
The team at Naples Shutter can't wait to help you transform your new Treviso Bay home with the ideal window treatments! Call (239) 566-8161 to get started today!