When designing your home, there are a lot of decisions to make, and a big one that tends to get overlooked are your window treatments. Think about all of the windows in your home, now think about how they will look with window treatments, such as blinds and shades or plantation shutters. The wrong window treatments can not only affect the overall look and feel of the space, they can also be functionally wrong for the room, or worse, become damaged during everyday activities. We've been in the business for decades, which means that we've seen pretty much everything when it comes to window treatments. Here are some of the most common window treatment mistakes and how to avoid them, so your windows will look beautiful and function properly for years.
Choosing the Wrong Window Treatments for the Space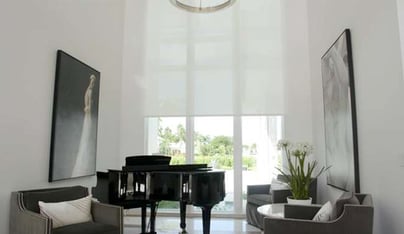 Certain spaces may have dedicated needs, which will require a specific type of window treatment. For instance, moisture-prone areas, like bathrooms and garages will need a durable product, one that can withstand prolonged periods of moisture and dampness. If you choose a product like premium wood plantation shutters or delicate blinds, they will undoubtedly become damaged from excessive moisture, causing you to have to replace them regularly. For these areas, we recommend poly plantation shutters or PVC shutters, due to their strong composition and durability in damp spaces.
Having Too Many Styles in One Room
You may have a large living area or bedroom with front-facing and side-facing windows, which may prompt you to think about having a couple different styles of window treatments in the same room to break it up. Although this is a valid point, experts recommend sticking with one type of window treatment in a room to help bring continuity to the space. For example, if you have woven wood shades on your front windows in the living room, be sure to have the same shades on the side-facing windows as well. It just helps to bring the room together and reduce the feeling of clutter.
Not Maintaining Your Window Treatments
Finding the perfect window treatments is only half the battle. Now, it's up to you to be sure you're cleaning and maintaining them properly. You want to be sure that you're taking care of your window treatments, so that they continue to bring beauty and functionality into your home for years. For plantation shutters, gently dust with a soft cloth and avoid using water or any products on them, as this excess moisture will cause the wood to warp. For blinds, be sure to take a duster and gently brush away any dirt that has accumulated regularly. When you do this, you're able to keep them operating in peak condition.
Other Helpful Tips
Window treatments are an investment that not only amplifies the look of your space, but affects the resale value of your home as well. Keep these other helpful tips in mind when choosing your window treatments:
Keep functionality in mind (choose high privacy shades for bedrooms and ultra light-filtering products for sun-filled rooms).

Match the look of the room (some rooms will warrant lighter and brighter options, while others like a study or den could benefit from a rich, regal look).

Always hire a reputable professional to help you with your window treatments.
Avoiding these common mishaps can help you create the ambiance you desire in your home. So, when it's time to design your window treatments, keep these tips and mind, and don't forget to get creative!