You decided that new window treatments were on your to-do list this year. You called a reputable window treatment company, scheduled your measurements and placed your order for a custom product. The friendly, knowledgeable installer arrived and just like that, you're now the proud owner of shiny, brand new window treatments! So, now what?! Your window treatments are a big part of your home and there is certain maintenance that goes along with keeping them in tip-top shape for years to come. Depending on what type of product you choose for your home, cleaning and maintenance practices will vary.
Here are our top tips on cleaning and maintaining your window treatments.
Plantation Shutter Maintenance
Your plantation shutters are custom-built to fit your windows and make excellent additions to any space in the home. However, failure to maintain your shutters can result in damage to the various shutter parts and may also cause a dull appearance. When cleaning and maintaining your plantation shutters keep the following in mind:
Dust regularly with a soft cloth or feather duster.

Spot clean with a damp cloth only when necessary.

Avoid pulling the shutters open with the tilt rod (this can pull out the staples and harm the integrity of the shutter).

Adjust tension in the louvers (the moving slats of the shutter) by tightening the tension screws on both sides of the shutter with a Phillips head screw driver.
As with any product, constant use can cause the louvers to become floppy, which is where your Phillips head comes in handy. You'll be able to maintain the quality of your shutters easily with these helpful practices. If your paint becomes scratched or chipped, it's important to give your shutter manufacturer a call, so that this can be fixed properly.
Blinds & Shades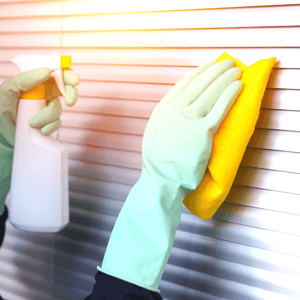 There are a number of ways to clean and maintain blinds and shades, because there are a number of different types of products available! Popular shades include:
Roller shades

Woven woods

Wood blinds

Luxury blinds & sheers

Cellular shades
The most common method of cleaning your blinds is utilizing a soft cloth, feather duster or dusting mitt, gently wiping it across the blinds to remove dust and debris. For solar shades, woven woods and other roll down shades, you're able to gently clean these with a vacuum using the brush attachment. For woven wood shades, be gentle with the brush attachment as the natural elements of these shades are delicate. You may also be able to spot clean your shades with a damp cloth, but it's best to steer clear of this with wood shades to avoid warping.
Exterior Shutters
Window treatments aren't just for the inside of the home. Exterior Bahama and colonial shutters are also very popular, especially here in Southwest Florida. These shutters are typically powder coated, which helps to protect them and make them more durable. To clean, simply brush dirt and debris from the shutters with a soft cloth, then rinse with water!
Taking Care of Your Window Treatments
Whether you're the proud new owner of custom plantation shutters or you've just added bright, vibrant Bahama shutters to the exterior of your home, taking care of your window treatments should now be a part of your household checklist. In maintaining these products properly, they'll be sure to last you for years, impressing guests as they admire them and increasing the resale value of your home.