You've selected the perfect sheer, chosen the color and texture and are ready to get them installed in your home. Just one question remains...what operating system should you pair with your brand new shades? The way your shades operate is important to the overall feel of the space and function of the product. Do you want to effortlessly operate your shades with the touch of a button or is a manual operation more your style? Are you concerned with hanging cords and want a more sleek appearance? These are all questions that must be answered when selecting the perfect shade for your home. When it comes to choosing the best operating system for your blinds, let us help. Here are your top options...

Motorization
Motorized blinds are one of the most popular choices for homes in Southwest Florida, due to their ease of use and streamlined appearance. With just a touch of a button, you can allow your shades to move to their desired positions in a mere matter of seconds. Operate your shades from the following devices:
By being able to control your shades from near or far, you're able to utilize them from many places in the home, and limit the amount of time you have to get up to physically move the shades. This also allows for the right amount of light and privacy, no matter what time of the day it is, creating the perfect ambiance in the space.
Wand-Controlled Operation
Another motorized option for your blinds is wand operation. This battery-powered system allows you to control your blinds with just a touch. Hunter Douglas offers SoftTouch™ Motorization, which allows you to gently pull down on the wand to lower the shades and press up to lift. This makes it especially easy to operate and limits the need for cords, which can pose a potential threat to young children and pets.
Retractable Cords
If you still wish to operate your shades manually, you may choose a retractable cord as an option. These cords retract back into the blind to allow for safe operation. The cords typically remain at a precise length that doesn't move, so that there are no hanging cords in the way for young children or pets to get tangled in, making this an ideal operating choice for those who are budget-conscious and needing some extra safety precautions in place.
Top-Down Bottom-Up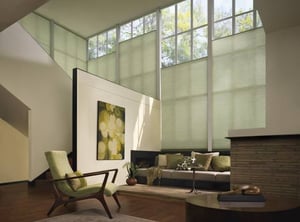 Have privacy where you need it and light where you desire. With top-down bottom-up shades, you're able to have the best of both worlds. Lower the shades to allow for light to filter in from the top, yet have the bottom portion lowered to provide ample privacy. This is an ideal balance of light and privacy for tricky openings in your home.
The Best Option for Your Home
When it comes down to it, there are many options available for your new window treatments. Not only are you able to choose the best product to meet your needs, you're also able to customize it fully, down to the last detail. Be sure to find the best operating system for your blinds that works and provides the level of functionality that you need.