Plantation shutters are an investment. As the apex predator of window treat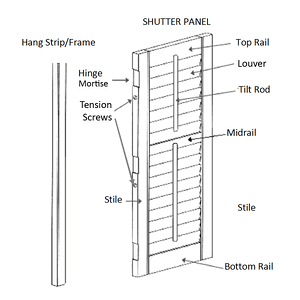 ments, shutters add incredible value to your home and usually stick around for decades. So, when a plantation shutter gets broken or damaged (don't panic, it happens), what do you do? Ignore it? No. Throw it out? Of course not. Duct tape? Please, no, we are begging you.
More often than not, your plantation shutter's injury is not fatal. Naples Shutter has rescued thousands of shutters over the years. Sometimes, you can even perform a simple plantation shutter repair all by yourself. This handy guide will direct you to which types of breakage can be repaired and in what manner.
Problem #1: Broken Louver
Having a broken louver is one of the most unsightly problems you can have with your plantation shutters. A louver falling out of place is an eyesore, it lets in unwanted light, and it's quite frankly annoying. But, hey, accidents happen and they can be fixed. Would you believe the most common cause of broken and damaged louvers is dogs chewing on them? True story. But who can stay mad at a cute puppy face? Not us! Here's what to do.
Solution: When you have a broken louver, just call Naples Shutter or your local shutter manufacturer. We will measure the louver to be replaced, manufacture a new one and install it right in your home. There is no need to remove the entire shutter and the process is fairly easy. Hopefully by that time the puppy has graduated to real dog toys.
Problem #2: Louver has "Popped" out of place
Sometimes, louvers can become dislodged from their place in the shutter, but the louvers themselves are not broken. We are not naming any names, but children hanging from the shutters and swinging on them like a ride, and husbands hanging their pants directly on the plantation shutters have been linked to this problem.
Solution: Louvers are held in place by a small spring-loaded plastic part on each end of the louver called a "louver pin." The louver pins fit into holes drilled into the stiles. If the louver pin is still there, try using a flathead screwdriver or a razor blade to depress the pin while you slide the louver back into place. If the louver pin is missing, call your shutter company. An installer will most likely be able to replace the louver pins and repair the shutter at your home.
Problem #3: Broken Magnets
Magnets are mounted inside the shutter frame to hold the shutter tightly in place when it is closed. The magnets are housed in a plastic casing and since they are exposed to direct sunlight, the UV rays can sometimes cause the plastic to break down after several years. The good news is that this is a very easy do-it-yourself fix.
Solution: Replacement magnets are available from Naples Shutter for a nominal fee. If you choose to install them yourself, all you need is a Philips head screwdriver. Just unscrew the broken magnet and screw in the new one. Easy! However, if you would prefer for our installers to do it for you, we are glad to do that. Just schedule a service call and we will take care of everything.
Problem #4: Louvers Won't Stay Open
This one's easy. When louvers won't stay open, nine times out of ten, the problem can be fixed by adjusting the louver tension.
Solution: It's as simple as using a Philips head screwdriver to turn the tension screws, which are located on both sides of the shutter panel. See our separate blog post on this topic for more detailed instructions.
Problem #5: Broken Frame or Shutter Panel
If the actual shutter panel is broken or if the frames of your shutters are broken or damaged, it's always better to call a professional rather than attempt a repair yourself. This is a pretty rare occurrence, but there have been instances of shutters being damaged during furniture delivery or home repair work. One client even called to tell us that her son had lost control of the golf cart, rammed into the side of the house, breaking the window and demolishing the plantation shutters inside. He was fine, thank goodness, but the shutters did require professional attention.
Solution: Just give us a call and we will gladly assess the situation.
Problem #6: Need Shutters Removed and Reinstalled Later
When it comes time to replace the actual windows in your home, it will be necessary to completely uninstall the plantation shutters and frames and reinstall them when the new windows are completed. In some cases, new frames will be required if the old ones can't be salvaged.
Solution: Our installers are quite experienced at this, so simply call us.
Problem #7: Shutters Need to be Repainted
We are asked all the time if plantation shutters can be repainted. The answer is yes! Whether you are changing the color scheme of your home or simply think your shutters need a little freshening up after many years of service, repainting shutters is common. Deciding on a new trim color? This informative guide will help.
Solution: Our installers will come to your home and remove the shutter panels, but not the frames. We will professionally spray the shutters the color of your choice and reinstall them. The frames will stay attached to your window jamb and will be repainted by your own painter. You'll be amazed at how freshly painted shutters brighten up a room.
As you can see, there is hope for your plantation shutters if they have been damaged. So don't panic, just use this guide to decide whether you will tackle the repair yourself or call a professional. Either way, your shutters will be there for you for many years to come.