Drive around any neighborhood in Southwest Florida and you will notice that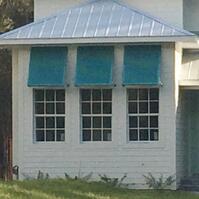 Bahama Shutters are surging in popularity. These clever beauties have become popular not only because of their style, but also because of their sturdiness in areas with a high risk for strong winds or hurricane weather. Southwest Florida has seen an uprise in homeowners who opt for Bahama Shutters on some or all of their home's exterior windows. Here's a helpful guide to better understand them.
What Are Bahama Shutters?
Bahama shutters are a type of window shutter that is mounted on the exterior of the home or commercial property. These shutters are hinged at the top, making them easy to pull over windows when a storm approaches. They are a one-piece shutter that is mounted above a window. They can remain propped open at all times , left partially closed or completely closed for privacy. As they are secured to the wall itself, they will remain sturdy during strong winds. Other types of shutters often come loose in strong winds because of window mounting.
Why Use Bahama Shutters?
Bahama Shutters are not only beautiful, but also serve as a protection in areas prone to strong winds, such as South Florida. There are many reasons to outfit a home with Bahama Shutters.
When a storm is approaching, a homeowner simply pulls on the bottom of the shutter to bring it down to seal the window, protecting the glass from any wind damage.
Many homeowners also use these shutters to keep the sun out, when windows are facing the sunlight.
A Bahama Shutter also provides privacy for homeowners, even with the shade in the open position.
Bahama Shutters add value and unique beauty to a home, coming in several styles and for different window shapes.
Caribbean Style architecture influence, which makes them perfect for beach and tourist areas.
Preparing a home once a storm is pending is easy with Bahama Shutters. It is estimated that it takes about 15 to 30 minutes to bring all the shutters down to cover windows.
Varieties and Versatility of Bahama Shutters
The Bahama Shutters are usually made of sturdy aluminum, but can also be created out of wood. Some clients choose wood for its natural beauty, but most clients prefer aluminum because of its long-lasting properties. They are often sold in either panel or louver styles for added variety. The shutters can be tailor made to fit almost any window size and shape from bay windows to attic windows. They are available in a wide variety of colors and are finished with a powder coating processj. Powder coating is a method of applying color that uses a dry powder finish applied electrostatically. It is then baked on under extreme heat. The result is a hard, even surface that is far more durable than paint and holds its color longer.
Bahama Shutter's Appeal
One of the greatest benefits of Bahama Shutters is their beauty. They add curb appeal to a home and often increase the home's value if reselling. These versatile shutters come in modern styles with a tropical flare that fit perfectly into a Southwest Florida home's tropical theme. As they come in a wide variety of colors, Bahama Shutters can match a home's paint shade or provide a complimentary hue to enhance the home's beauty. Bahama Shutters are a simple and long lasting architectural addition to a home, adding beauty and visual appeal.
Considerations When Installing Bahama Shutters
Naples Shutter, Inc. has installed Bahama shutters for over 30 years. If you are curious about the possibility of incorporating Bahamas into your home, simply click below for a free estimate. Our sales team can advise you and answer any questions you have about their use. Each shutter is custom made for your home, and turnaround time is approximately five to six weeks.
Bahama Shutters make a great addition to any home in Southwest Florida both aesthetically and functionally. You will be pleased with their beauty, shade and protection. Contact Naples Shutter today for a free estimate.