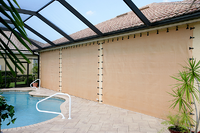 If you are like many homeowners, you have purchased AstroGuard Hurricane Fabric to protect your home during a storm. However, if you haven't had to use it yet, you may feel a little uneasy about how to properly deploy your AstroGuard when a hurricane is approaching. You may also be wondering about the proper cleaning and storage of your fabric. This article provides simple step-by-step instructions on how to do both.

DEPLOYMENT
One of the many benefits of AstroGuard Hurricane Fabric is its easy deployment when a hurricane is heading towards your city. Let's face it, there is enough stress during hurricane season with stockpiling food, water and batteries, removing branches and possible flying debris from your yard, and making sure your family and pets are protected with a smart emergency plan. So isn't it nice to know that your home's hurricane protection is one of the easiest things on your list? Here are some quick steps to getting AstroGuard up on your home when the time comes.
Lay pieces of AstroGuard next to the appropriate window, door or lanai opening. You should have received a diagram of your home identifying each numbered piece of hurricane fabric and which opening it belongs to.

Place fabric over opening. You may need a stepladder to reach the top of your openings. Get a friend or family member to help hold the AstroGuard in place.

Remove all of the anchor screws around the opening.

Starting with the TOP TWO CORNERS, install the AstroGuard by hand-tightening the screws around the perimeter of the opening. Remember, always install the top two corners first, then complete the rest of the openings. Hand-tighten only.

You may need to stretch and pull the AstroGuard over the opening, but a tight fit is not necessary. It's normal to have a little "give" or flexibility in the fabric. This is part of the design.

With a power screwdriver, tighten all screws (use low torque to avoid stripping). That's it!

To remove AstroGuard, remove screws, remove hurricane fabric, and replace screws in the holes.
CLEANING AND STORAGE
To ensure that your AstroGuard gives you many years of protection, follow these easy steps for proper cleaning and maintenance.
After using your AstroGuard Hurricane Fabric, wash away any dirt or debris using water and a mild soap, such as dishwashing liquid.

If stains persist, clean AstroGuard with OxyClean and a scrub brush.

Make sure the product is completely dry before storing. If AstroGuard is stored wet, it will mildew.
WARRANTY
AstroGuard Hurricane Fabric is covered by a ten year limited warranty per hurricanefabric.com, the manufacturer of AstroGuard. Click here for full warranty.
Naples Shutter provides a wide variety of hurricane protection options including AstroGuard Hurricane Fabric, Rolldown & Accordion Shutters, and Impact Windows & Doors. For more information, please contact us for a free in-home estimate.
REFER A FRIEND
At Naples Shutter, most of our business comes from referrals and previous clients. We are so pleased that you, our customers, are confident enough about our products and services to send your friends our way. As a special thanks from us, we give you a $50 Visa gift card for each new client you refer, and your friend gets a $50 discount on their order. Everyone's a winner! Print a Referral Card here to get started.