Most of us Floridians know hurricane season all too well. We know that it runs from approximately May 1st through November 1st, and at any time in those parameters, we are susceptible to a storm of potentially great force.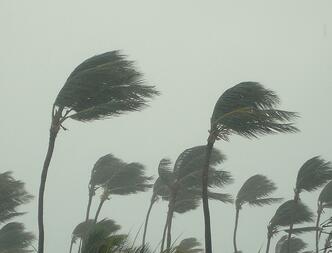 Here at Naples Shutter, we would like to take the time to educate our readers on a little more than just when hurricane season is.
Hurricane Season: Types of Storms
There are three types (or developments) of storms. The first is the tropical depression. Tropical depressions occur when large, low-pressure systems and thunderstorms start to organize and produce strong winds. Once a tropical depression gains enough speed, it intensifies into a tropical storm. A tropical storm is more organized and starts to form into a circular shape. At this point, the storm is named. As surface pressures drop and wind speeds increase, a more pronounced core is developed and the tropical storm is upgraded to hurricane status.
Wind speeds are major factors in categorizing storms from tropical depressions to hurricanes.
Tropical Depression: Winds between 23 and 39 mph.
Tropical Storm: Winds between 39 and 73 mph.
Hurricane: When wind speeds reach 74 mph.
Hurricane Watch vs. Hurricane Warning
There are also two types of notifications for those potentially affected by a storm, a hurricane watch and a hurricane warning.
Hurricane Watch

: The possibility that hurricane conditions could occur within 48 hours.

Hurricane Warning

: Winds of at least 74 mph are predicted within 36 hours.
Hurricane Season: Categories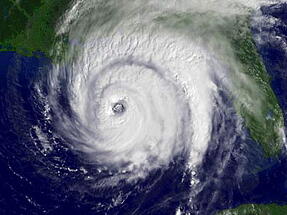 Hurricanes are categorized on a scale from one to five, with five being the most devastating. All have their own characteristics and wind speed parameters.
Category 1

: Some damage to poorly constructed signs. No real damage to building structures. Damage mainly to shrubbery and trees. Wind speeds between 74 and 95 mph.
Category 2

: Damage to roofing materials, doors and windows. Extensive damage to shrubbery and trees. Wind speeds between 96 and 110 mph.
Category 3

: Structural damage to small residences. Mobile homes and poorly constructed signs destroyed. Flooding near the coast. Wind speeds between 111 and 130 mph.
Category 4

: Some complete roof structure failures on small houses with complete destruction of mobile homes. Serious damage to doors and windows. Wind speeds between 131 and 155 mph.
Category 5

: Total roof failures on most houses and buildings. Some complete building failures. Major damage to lower floors of structures near the coast. Evacuations of residents on low grounds. Wind speeds greater than 155 mph.
Hurricane Facts: Did You Know?
A Category 3 hurricane is considered to be a major hurricane.
The peak of hurricane season is the middle of August through the end of October.
It wasn't until 1979 that storms had male names.
Names are retired if the storm associated with it caused significant devastation. Those include: Andrew in 1992, Ivan in 2004, Katrina in 2005 and Sandy in 2012.
So there you have it! We hope that you are more knowledgeable about hurricane season than you were before. It's important to know the facts, so that you can better prepare yourself when a storm approaches. Hurricanes and tropical storms alike are dangerous. Make sure you have an ample supply of fresh water, extra batteries for your flashlights, and if you are in an evacuation zone and told to evacuate, please do so. There's nothing more important than your safety.
Sources: www.cnn.com