Here at Naples Shutter, we get calls every day from people who say, "Tell me about this hurricane fabric." They may have heard about it from a friend, a neighbor, seen it on the news or seen one of our ads. But they all have one thing in common: they are incredibly skeptical that any kind of fabric could defend against hurricanes. Well, today we will answer the most common questions people have about hurricane fabric and hopefully solve a few mysteries.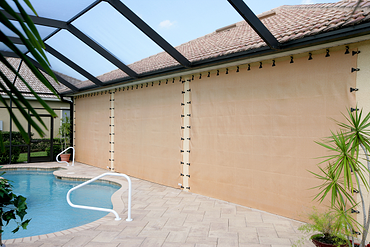 WHAT is AstroGuard Hurricane Fabric?
AstroGuard Hurricane Fabric is a woven nylon that is coated with a UV resistant resin. Other companies use polypropylene, which will deteriorate in sunlight, but with its unique UV coating, AstroGuard Hurricane Fabric can be deployed on your home, even while you're not there. It is also attached with a clip system, which makes deploying it even easier than using traditional grommets. Tested up to 200 mph winds, AstroGuard has out-performed all other forms of hurricane protection.
WHEN Should I Use Hurricane Fabric?
AstroGuard Hurricane Fabric can be used to protect your home and family from all tropical storms and hurricanes. It protects all glazed openings from flying debris and prevents pressure from building in the home. Taking only a fraction of the time that it takes to deploy traditional metal storm shutters, AstroGuard is an easy way to protect your home when a storm is quickly approaching.
WHERE Is AstroGuard Hurricane Fabric Approved For Use?
AstroGuard Hurricane Fabric is approved by the Florida Building Code #15208 and the Miami-Dade County, NOA #10-0607.02. It is also used world-wide with dealers in Japan and the Caribbean Islands, as well as the U.S.
WHY Do I Need It?
It isn't a matter of IF, but WHEN a storm is approaching, every home needs to be hurricane protected. AstroGuard is an affordable and effective way to protect your home. When you are 100% protected, wind mitigation can be done in order to lower your homeowner's insurance rates. Having hurricane protection not only protects you and your family, but it makes your home more marketable.
WHO Can I Get It From?
AstroGuard Hurricane Fabric is available at Naples Shutter, Inc. We are the largest dealer of hurricane fabric for over five years. We will not only install AstroGuard Hurricane Fabric, we will also paint hardware to match your home at no extra charge. Naples Shutter has passed every state inspection with a perfect record.
HOW Do I Get Started?
Now that you have all of the information on AstroGuard Hurricane Fabric, the next step is to see it for yourself. Click the link below to get your free sample of AstroGuard, or give us a call at 239-566-8161 to schedule a free estimate. You won't be disappointed.