Although skylights are beautiful additions to the home, offering an unmatched view of the stars above at night and letting light in during the sunny Southwest Florida days, covering them may be a necessity. It's rare for homeowners to want to leave skylights exposed, especially if they want to sleep past sunrise. But how do you cover them, while also enjoying the pristine views that they deliver? It turns out that you have a number of options, designed for skylights to not only blend in seamlessly with your home's style, but also offer you maximum privacy and light filtering abilities. Here are some of the best window treatments for skylights.
Cellular Shades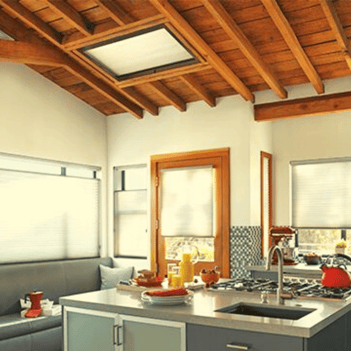 When choosing the right look for every room in the home, it's important to keep your windows, even skylights, in mind, so that you're able to effortlessly carry your style throughout all areas of the home. Cellular shades are popular options for covering skylights, due to the diverse fabric selection you get to enjoy, as well as a host of benefits including:
Energy-saving capabilities

Versatile shapes and sizes available

Increased insulation

Unmatched light filtering abilities
Cellular shades consist of pockets that trap air, keeping cool air in and warm air out, which is perfect for homes in Southwest Florida. Opt for a blackout option for bedrooms and other rooms where you'll want to be able to control the amount of light that enters the room. Blackout shades work wonderfully in home theaters and media rooms as well, especially when you're trying to have a mid-day weekend movie marathon.
Vertical Blinds
Offering protection from the harsh rays of the sun, as well as giving homeowners a vast selection of options, vertical blinds, like the Somner® line from Hunter Douglas are ideal for openings, like skylights. A perfect alternative to honeycomb shades, which have been widely overused in homes for years, vertical blinds can complement any space and style of home.
Custom Plantation Shutters
If shades aren't your style, opting to have custom plantation shutters built may be the right choice for your home. Designed in many shapes and sizes, plantation shutters provide any space with the clean, modern look that is highly desired in many Southwest Florida homes. And when you team up with a manufacturer, like Naples Shutter, you're able to get a product that's been expertly measured, designed and built for you and no one else, making plantation shutters a top option for skylights in every room of the home.
Honeycomb Shades
And for those who want a simplistic approach to covering their skylights, honeycomb shades won't let you down. With UV ray blocking abilities, in addition to multiple ways to open and close them, including a handle, hand crank or telescoping pole, honeycomb shades have been a favorite for many homeowners for years.
Covering Your Skylights
There are many times where you'll want to let the light in, gazing at the stars above or illuminating the space with the natural glow of the sun. There are other times, however, where you'll want more privacy and light filtering capabilities, which means that window treatments are a must for these types of openings. Whether you're looking for simplicity with honeycomb shades, ultimate energy efficiency with cellular shades or unparalleled style with plantation shutters, there's an option out there to suit your home perfectly.