As you continue to strive to make your home more comfortable and functional, increasing its resale value is always on your mind. What projects can you complete to add value to your home? Where do you start? And do some projects take precedence? Here in Southwest Florida, there are projects, specific to our area, that help increase home resale values, and when it comes to maximizing your space, while adding in functional aspects, some projects do take priority over others. Whether you're looking to sell, refinance or you just want to make your home the best it can be, here are some of the best home improvement projects to add value to your Southwest Florida home.
Window Treatments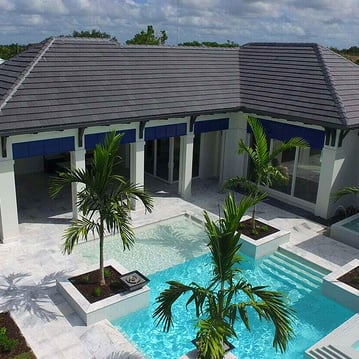 You may not think that window treatments are that important to increasing your home's resale value; however, custom window coverings, such as plantation shutters can really amp up the appeal of your home. Perfectly-fitted to your windows, these handcrafted pieces not only add beauty to the space, they also add a level of privacy and functionality that can't be beat. When it comes to adding value to your home, plantation shutters make a big impact, especially to potential buyers.
Hurricane Protection
In Southwest Florida, we have to take hurricane season seriously. After all, you never know what type of weather will come crashing onto our shores at any given moment, especially from June through November, so proper hurricane protection is a must. If you want to increase the resale value of your home, having hurricane protection is key, but not all hurricane protection will do here. It's best to have hurricane shutters that are custom-fitted to your windows and doors and are easily stored and deployed. That's why we recommend AstroGuard Hurricane Fabric to all of our clients, as this is the strongest, most durable and most affordable option on the market today.
Energy Efficiency
Saving energy is something that every homeowner strives for, and with energy-efficient options, you're able to make your home work at its best. When it's time to maximize efficiency in your home, try upgrading to eco-friendly options like:
Energy-saving appliances

Energy-efficient thermostats

Solar roofing materials

Geothermal flooring
If you're looking for more affordable ways to increase energy efficiency in your home, installing blinds and shades can help by filtering light and keeping your home cooler in the summer and warmer in the winter.
Curb Appeal
There's no doubt about it, if your home looks nice on the outside, you're already a step ahead of the game. A fresh coat of paint, a nice, bright front door and some plant life to welcome you into the home are effective ways to add curb appeal (and value) to your home. We recommend adding Bahama or Colonial shutters to the exterior of your home to give it that perfect Southwest Florida feel.
Your Home's Value
From big renovations to simple fixes, there's always a way to add value to your home. No matter if you're replacing all of your appliances with energy-saving options or you're adding simple window treatments to provide more privacy and protect your belongings from fading in the sun, anything helps when it's time to maximize your home's potential. If you're ready to make the most out of your home, keep these top projects in mind.