These days, the home includes a hub of technology nestled inside of it. From smart appliances to voice assistants, security cameras to lighting, just about anything can be automated in your home, but what about window treatments? Wouldn't it be nice to be able to control your window treatments from afar, directing them where they need to go, even if you're nowhere near home? With automated shades, you're able to do just that, and if you're wondering whether or not automated window treatments are right for you, let the pros weigh in here. As we strive for even more convenience in our everyday routine, it just makes sense that more and more homeowners would gravitate toward automated options. Imagine being able to enjoy the spectacular sunset the moment you walk through the door after a busy day running errands. When it comes to automating your home, don't forget about your window treatments.
Here are the top benefits of automated window treatments.
More Control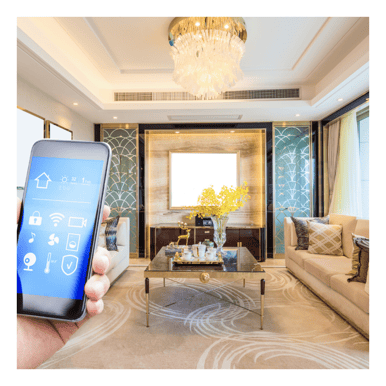 Maybe you've been away from the home longer than planned or maybe you've left for a trip without remembering to close the shades. No matter what the scenario is, it's easy to control your shades without even being in your home. Operate them effortlessly from your smartphone or any internet-ready device and have the assurance you need in knowing that your home has the privacy it needs, especially while you're away. Being able to control your shades remotely is one of the top reasons why more and more Southwest Florida homeowners opt for these types of shades.
Improved Efficiency
Automated shades can also be placed on a schedule, with the ability to maximize light during the day and privacy at night. In addition, you're able to control your shades, so that they offer some relief during our sun-filled days, which can help protect furniture and other valuables from fading in the sun. Having your shades on a schedule is not only convenient, but it can also help you save money on your energy bills.
Higher Resale Values
Homes with automation tend to fetch higher prices than those without, and window treatments can be a key player in this. Homes with custom window treatments, especially those with window coverings that are automated drive the value up on the home, which means that if you were to sell, you're able to get more money for your home with automated shades inside.
Other Perks of Automated Shades
When you choose to automate your window coverings, you not only get to enjoy a better product that works how you need it to, but you also get to take advantage of more benefits, including:
More privacy
Better light-filtering abilities
Greater peace of mind
Safer for pets and children
As you can see, there are many benefits associated with choosing to automate your window coverings. From cosmetic advantages to functional matters, like security and privacy, automated shades are quickly becoming the go-to choices for Southwest Florida homeowners and beyond. Plus, with so many beautiful products available with many chances to customize these products to complement your home perfectly, it's no surprise that automation continues to grow in popularity. So, if you're seeking more control, better protection of your home and its contents, as well as more quality products, be sure to seriously consider automated window treatments.