At Naples Shutter we are all too familiar with hurricane season in Southwest Florida and how it can be brutal for the unprepared. Taking action to protect your family includes maintaining your hurricane window shutters.
The worst time to discover your Rolldown and Accordion Hurricane Shutters don't work is when the storm is close to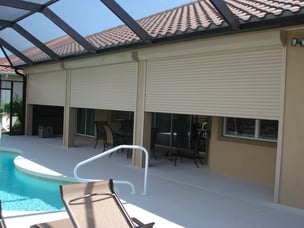 approaching land. Here is why caring for your storm shutters is essential and what steps you can take to keep them in their best condition.
Why Hurricane Window Shutter Maintenance Is Essential
Your home is one of the largest investments you'll make in your lifetime. Quality hurricane window shutters are vital to protecting your home, but maintaining these shutters is just as crucial. Without proper care, your shutters may not work as intended.
Performing yearly shutter maintenance comes with many benefits, such as:
Preventing damage from occurring to your home during a storm
Identifying issues that can be resolved before they become a more costly repair
Keeping your home looking beautiful
Shutter maintenance is relatively simple. But you'll feel confident your home is protected when the next hurricane season comes.
Hurricane Window Shutter Maintenance Tips
Hurricane window shutters are your home's first layer of protection against a storm's high winds, heavy rain, and flying debris. Shutters protect the glass from shattering and prevent the inside of your house from suffering exposure to wind and flooding.
Keeping your hurricane window shutters in prime condition is a key step in preparing for hurricane season. Follow these maintenance tips to ensure your home remains protected:
Complete a Visual Inspection
Visually inspect the entire shutter. Check for any broken components or missing pieces.
Appliances with moving parts are always at risk of breaking. The cranks or slats on shutters can break or come off. Metal shutters can become dented and require repairs.
If you find any damage, schedule repairs with a hurricane shutter repair company as soon as possible. It's critical to ensure your shutters continue providing the necessary protection. You never know when a hurricane will strike in your area.
Open and Close Shutters Monthly
Letting your shutters remain shut during the off-season will cause the tracks to collect debris and movable parts to rust or corrode. Routinely opening and closing your hurricane window shutters will help keep things clear and test moving parts. Monthly, make sure they open the entire way and move smoothly.
Clean and Lubricate the Tracks
Cleaning your shutters regularly will prevent dirt and debris from accumulating in the tracks. During the off-season, insects may have built their nests in the shutters, which can disrupt their opening and closing. These pests are easily cleaned out with a vacuum or handheld broom. You can also use soap, water, and a soft cloth to clean any buildup.
Lubricate any tracks, locks, bolts, or hinges so they can easily slide in the correct direction. Do this several times a year to keep your shutters in operating condition.
Safeguard Your Home with Hurricane Window Shutters
When you keep your window shutters in good condition, they can better protect your home from storm damage. For hurricane protection you can trust, turn to Naples Shutter. We have over 25 years of experience in safeguarding Southwest Florida homes with top-quality window shutters. Call or visit us online today.