The Southwest Florida real estate market is on fire, and many people are making quick homebuying decisions as they seek a warmer climate or just peace and quiet from busy city life. Many buyers are even purchasing homes sight-unseen. As a homebuyer, it's difficult to keep track of all the details of purchasing a home. But it's important to remember that not everything you see in the listing photos or even during a tour is included with the house. Most people remember to ask about appliances and furniture but completely overlook the window treatments.

The last thing you want to do is sign a contract and end up shocked when your new home doesn't have the window treatments you loved so much. Keep reading to learn how to determine whether a home comes with window treatments.

Are Window Treatments Included When You Buy a Home?
Although it seems like a simple yes or no question, there is no straightforward answer. As a general rule of thumb, fixtures are included in the sale if they are permanently attached to the house using:
● Screws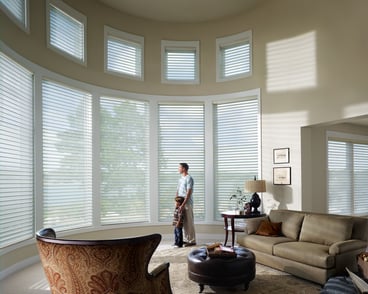 ● Nails

● Cement

● Glue

● Pipes

Going by this standard, some window treatments would be included, while others would not. However, the answer to the question, "Are window treatments included when you buy a home?" all comes down to the specific wording of your contract.

Read on to learn more about which window treatments are included when you buy a home.
Blinds
Blinds are a popular window treatment that gives the user precise control over lighting and privacy levels. Since blinds are typically screwed directly into the window frame, they are usually included when you buy a home.
Plantation Shutters, Bahama Shutters, and Colonial Shutters
Shutters of all types provide a unique look that many homebuyers fall in love with. Luckily, both indoor and outdoor shutters are almost always included in the sale.
Curtain Rods
Curtain rods are another window treatment that is permanently attached to the wall and not easily taken off. As such, they are usually included in the sale.
Curtains
Unlike the other window treatments, curtains are easily slid on and off with little effort. As such, they may or may not be included in your new home. Most sellers will include some kind of curtain, even if it is a cheaper version of what they originally had. But it's not safe to assume they always will.
Always Seek Clarification
When purchasing a home, it's always best to clarify what window treatments are included in the purchase. This prevents misunderstandings or surprises later on. Look at the listing or contract to see if it mentions window treatments. If it doesn't, ask the real estate agent or the seller directly.

What to Do if You Want to Take Your Window Treatments with You When You Move

If you're selling your house and can't part with your window treatments, you don't necessarily have to. However, sellers typically include window treatments as a common courtesy to the buyer. As such, it's a good idea to replace any treatments you plan on taking with a basic alternative.

If you don't plan on including any window treatments in the sale, it's important to clearly state this in the property disclosure.
What to Do if Window Treatments Aren't Included in Your New Home
If window treatments aren't included in your new home, there's no need to panic. You can get attractive, high-quality window treatments from Naples Shutter. Contact us today to learn more about what we can do for you.