You've decided that you prefer shades in your home, but you're not quite sure which type of shade will be perfect for every room. Two popular options in the industry are solar shades and roller shades, and although many homeowners believe that they're the same product, they're actually quite different. The shade that you choose to cover each window in your home matters, especially when you consider the main responsibility of that shade. For example, will the window in question need maximum privacy or enhanced light filtering capabilities? In order to achieve style and function in each space, your blinds will be a big part of the process. So, are solar shades and roller shades the same? No! Let's find out how they're different.
What Are Solar Shades?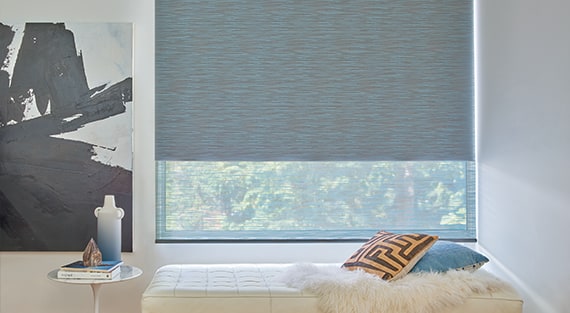 Solar shades are specifically designed with impeccable light filtering qualities, which makes them perfect for areas of the home where you'd prefer to let the light in. Constructed from an open weave material, solar shades are ideal for spaces where you want to:
Allow more light into the room.
Enjoy the views outside of the window.
Protect against harmful UV rays.
Control the temperature of your home, reducing energy bills in the process.
Solar shades are preferred in areas of the home, like sunrooms, offices, gyms and other spaces that don't require the highest amount of privacy, and where you can enjoy the views of your Southwest Florida surroundings. Although solar shades are perfect for many areas of the home, the biggest limitation of these particular shades is that they don't offer maximum privacy or black-out capabilities. This means that bedrooms and bathrooms are not the ideal locations for these types of shades.
What Are Roller Shades?
Roller shades are highly sought-after, due to the fact that there are many options available to customize them to meet your needs and your home's style. These shades range from light-filtering varieties to black-out options, making them ideal for areas of the home where you need more privacy. In addition to enhanced capabilities, roller shades are offered in an impressive selection of colors and textures to really create the style you're looking for in each room. You'll find these shades donning areas of the home, like bedrooms and bathrooms, as well as home theaters and other areas where privacy is key. Since these shades have more room darkening qualities available, they may not be the best fit for rooms where you want to maximize your views.
Solar vs. Roller: Which Should You Choose?
Both shades have their distinct advantages. Solar shades offer unmatched light filtering qualities, all the while allowing you to maintain your pristine tropical views without compromise. Roller shades, on the other hand, deliver a level of privacy that can't be found with solar shades, as well as a number of materials, textures and styles to create the window treatments you really want in each room. You'll want to factor in each room and what the function of the window treatments should be in the space. If you're wanting increased privacy, roller shades are unbeatable; however, if you don't want to sacrifice your views of the water, you may want to opt for solar shades. The amazing thing is that both shades work together, so mixing and matching them, depending on the room, is easy. Although these two types of shades are very similar, each accomplishes something different, so keep this in mind when you're choosing your next set of window treatments for your home.