Window treatments in your home have the power to completely transform your living space, and Design Studio™ Roller Shades by Hunter Douglas are no exception.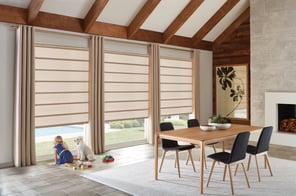 As one of the top brands in the window covering industry, Hunter Douglas continually manufactures some of the most innovative and high-quality solutions to suit a range of unique needs and styles.
At Naples Shutter, we ensure that your Hunter Douglas Roller Shades are not only expertly designed to suit your home, but also professionally installed and backed by top-notch customer service.
Here are five reasons why we love Hunter Douglas Roller Shades.
1. Customizable Designs
Hunter Douglas Roller Shades are available in a wide variety of fabric options, colors, textures, and opacities. The wide range allows for precise customization, enabling you to select the perfect shade for your decor.
Whether you want to make a bold statement with vibrant colors or craft a calming atmosphere with neutral hues, Hunter Douglas Roller Shades have it all.
You can also choose from a variety of opacities, ranging from sheer to room-darkening. This allows you to control the level of light and privacy for your space.
2. Innovative Operating Systems
Hunter Douglas is known for prioritizing ease of use for clients. That is why this line features a range of innovative operating systems.
With Hunter Douglas Roller Shades, you have both manual and motorized options. The manual cordless system eliminates the need for cords in your space. You can also choose an automated system option that allows you to control your shades by using either a remote or the smartphone app.
This automated system also lets you schedule shade adjustments throughout the day, giving you the opportunity to capitalize on the light in your home as the sun moves.
3. Energy Efficiency
Hunter Douglas Roller Shades help insulate your windows and regulate indoor temperatures, allowing for enhanced energy efficiency in your home. Not only does this keep your living space more comfortable, but it can also help reduce your energy bills.
4. UV Protection
UV rays aren't just harmful to your skin. They can also cause fading and damage to your home, particularly to:
● Furniture
● Flooring
● Artwork
You can protect your valuable assets and possessions by using Hunter Douglas Roller Shades to block harmful UV rays while still allowing warm, natural light into your home.
Depending on the fabric you choose, you'll get a varying degree of UV protection. This offers flexibility as you figure out the right balance between light control and protecting your furnishings.
5. Child and Pet Safety
If you have small children or pets, Hunter Douglas Roller Shades help keep them safe with their cordless and motorized systems. These systems eliminate the risk of cord entanglement and potential strangulation, leading to a much safer environment for your kiddos and furry friends.
Hunter Douglas Roller Shades with Naples Shutter
At Naples Shutter, we use our expertise and dedication to excellence to provide professional design consultations, high-quality installation, and some of the best customer service you'll ever get. Contact us today to learn more about Hunter Douglas Roller Shades and how we can install them in your home.