You may not have realized just how many windows you have in your home…not until you started searching for window treatments for all of them. It may be easy to outfit bedroom and living room windows, but the kitchen tends to be a bit tricky. After all, you want a durable product that will stand up against water, a rogue splash of olive oil and all the other elements found in a kitchen; however, you also want this area of the home to be stylish and functional. You want to be able to enjoy the view from the window above the sink while you're putting away dishes or prepping food, and not every window treatment belongs in the kitchen. For this area of the home, as well as many other spaces, café shutters are becoming increasingly popular. If you're wondering whether or not they're right for you, let's talk about the benefits of café shutters.
What are Café Shutters?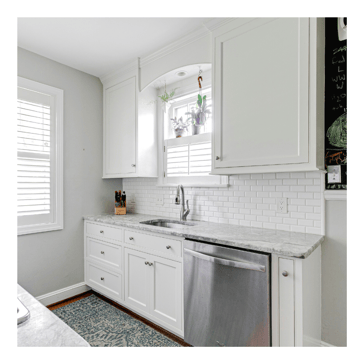 First of all, what exactly are café shutters? Café shutters are unique, in that they cover only part of the window, leaving the remaining portion open to let the Southwest Florida sun illuminate the space. Typically, cafe shutters occupy the lower region of the window to provide privacy, especially for spaces on the ground floor, and are perfect for the area above the kitchen sink, den areas, breakfast nooks and many other places in the home. Not only are you able to enjoy the light that shines through the top half, the privacy you get from being able to close the louvers on the bottom is what many homeowners desire.
Optimal Functionality
The biggest advantage to having café shutters in your space is their overall versatility. You can open or close the louvers to let in as much light as you wish, while maximizing privacy throughout the home. This type of shutter provides an unobstructed view of the top area of your window, so that you're able to maintain a bright, cheery presence in the space, while delivering the level of security you need when it's time for more privacy.
Unmatched Efficiency
Café shutters also help to enhance your home's energy efficiency, keeping the space cooler in the summer and warmer in the winter. This way, you'll be able to enjoy lower utility bills, especially during the sweltering Southwest Florida summers.
Effortless Maintenance
Another perk of choosing café shutters is that they're easy to clean and maintain. Since they occupy an easy-to-reach area on your windows, you won't have to worry about breaking out the ladder in order to dust them. Simply take a dry cloth and wipe them down regularly.
Other Perks of Café Shutters
You'll find that café shutters come with many benefits to make them ideal for a multitude of spaces in the home. Other advantages include:
Stylish & customizable
More affordable than full height options
Pair perfectly with curtains & drapery panels, if desired
Maximizes views
Protect items from fading in the sun
When you're looking to take advantage of ample light, yet also enjoy privacy in the space, café shutters are outstanding additions to any room, especially the kitchen. From their undeniable versatility to all the ways you're able to customize them to meet your needs, café shutters can bring style and function to any room in the home. If you're looking for the best of both worlds, café shutters will deliver a level of versatility and beauty to your home unlike any other window treatment application on the market.