When shopping for window treatments, you may not be thinking about what type of mount you want them to have, but you should be. The way your windows are covered is important to the overall look of the space. Many homeowners choose blinds and shades for their home, due to the beauty, functionality and ease of use that they provide, and the way in which they are installed can help to create that feel you want in your home. Although inside mount is a popular way to install shades, you may want to consider the alternative. Installing your shades with an outside mount can have a lot of benefits, let's discuss these benefits. Here's your guide to outside mount shades.
Inside Mount vs. Outside Mount: What's the Difference?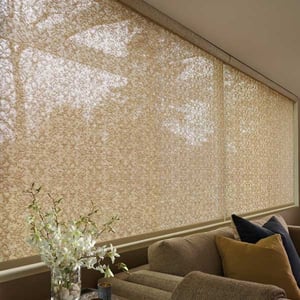 Many window treatments are installed on the inside of the window frame, which is called an inside mount. Although this look is appealing, inside mounts don't do much by way of light control, whereas outside mounts do, especially in areas, such as the living room and kitchen. An outside mount is installed on the outside of the window frame, providing benefits that you may not have thought of before.
Outside Mounts & Light Gaps
A shade that is installed using an outside mount doesn't sit flush; however, what it does do is provide excellent light control, eliminating light gaps in the space. This is especially important in areas of the home, where you don't want that extra sliver of light to appear; areas where you wish to have privacy, like living spaces and bedrooms. Couple this type of mount with a black-out shade and watch as the room transforms into a private oasis, free from the annoyance of light gaps.
Outside Mounts & Appearance
Let's face it...windows aren't perfect and you may have some places on your windows that you wish to hide. This is where an outside mount shade works perfectly. Fitting over parts of the window casing, outside mount shades can cover these imperfections with ease. Outside mounts also help to make windows take on a bigger feel. By installing your shades on the outside of the frame, you're able to create a larger look for your window. This is especially effective for small windows.
Other Benefits of Outside Mounts
Outside mount shades have a variety of benefits that you wouldn't expect. This type of installation is perfect for doors as well. Typically, there isn't enough space for an inside mount, which tends to cause issues upon installation. Outside mounts are perfect for doors and tight spaces also. Windows that aren't deep enough can benefit from an outside mount. These types of windows are traditionally seen in older homes, and installing an inside mount shade can prove to be difficult. Outside mounts not only work in the space, they also help to provide the level of privacy and light control that you need.
Why Outside Mount Shades Work
Remember, if you're dealing with a tight space or want to get more out of your window treatments, consider having them installed with an outside mount. Outside mounts provide:
Privacy
Light control
A bigger appearance
An easier installation in problem openings
So, as you're shopping around for window treatments, keep these key ideas in mind. You may want to take a look at which windows you're covering to see if an outside mount may be more beneficial for the space.