We've recently experienced a slight hurricane scare. Hurricane Dorian's disorganized path caused many Southwest Florida residents to go into panic mode. Although in the end, we were fortunately spared from the storm, it prompted many Floridians to take a look into their hurricane preparedness plans. Here at Naples Shutter, our goal is to help our clients protect their homes with the very best hurricane protection on the market. As we were receiving multiple calls about last-minute hurricane protection days before the storm, it reiterated our belief in giving yourself the time to get prepared. Here's why you shouldn't wait until a hurricane is on the way to get your home ready.

You Won't Be Protected In Time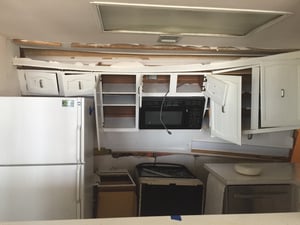 It's almost impossible to protect your home with top-of-the-line hurricane protection if you try to order it days before a storm. This is due to the fact that proper hurricane protection is custom-fitted to your windows, which means custom measurements and ordering custom products. Because of the risk of pressure build-up in the home, due to ill-fitting hurricane protection, it's imperative to have a product that fits properly. As pressure builds during a storm, your roof has the potential to lift off of the home, causing not only devastation to your home, but also harm to you and your family.
Our expert tip is to order your hurricane protection as soon as possible. Ideally, your home needs to be prepared before hurricane season begins, but as soon as you can protect it, do it. This will provide the time needed to get your products in from the manufacturer and installed properly, so that you can limit stress when a storm is on its way. Don't wait until the storm's impact is imminent to start thinking about protecting your home.
You Risk Your Safety
If you've waited to order hurricane protection for your home and a storm is on its way, you may think about nailing up plywood to protect your windows. Like ill-fitting hurricane protection, plywood is not custom-fitted to your windows, which can cause that build-up of pressure that we mentioned earlier. Plywood is also not as durable as hurricane shutters or fabric, which means that flying debris can bust right through, threatening the integrity of your home and the safety of your family. If your home doesn't have proper hurricane protection, we recommend staying somewhere else, like a friend's house (with hurricane protection) or a shelter for the duration of the storm.
You Won't Be Prepared
Not only is protecting your home an integral part of the process, having a well-stocked hurricane kit is essential, especially during the days following a storm when there is no power or water. Stock up on plenty of water, non-perishable foods, flashlights, batteries, gas and more. We recommend having a dedicated space for this and making sure that it is ready to go at the start of hurricane season. This way, you're not frantically running to the grocery store or the gas station in search of last-minute essentials.
Don't Wait!
If you're not prepared for the next hurricane that can potentially come our way, get started now. Remember:
Protect your home with proper hurricane protection
Don't wait until a storm is approaching to order your hurricane protection
Have a well-stocked hurricane kit at the ready
Don't try to stay in a home that isn't protected during a hurricane
Hurricane Dorian may have prompted many Floridians to get in gear and take hurricane season seriously. Don't forget that hurricane season doesn't end until November 30th, so we still have a lot of time left for a storm to make its way to us. Protect your home and your family now, so that you don't have to worry later.