In just a few short weeks, the Atlantic Hurricane Season will be over, and we can all breathe a sigh of relief that another season has come and gone without too much trouble...at least here in Southwest Florida. As we look forward to slightly cooler weather, less rain and a significant decrease in humidity, you may put your thoughts of hurricane season behind you, telling yourself that you'll think about it again in a few months. Although that sounds like the perfect plan, we can't stress enough how early hurricane preparation is imperative, so that you can ensure the safety and security of your family and home once hurricane season begins again...and it'll be here before you know it. If you weren't as prepared as you would have liked this season or if you simply need to restock on some items, there's no better time than now.
Here's why now is the perfect time to get ready for next hurricane season.
Budgeting for Supplies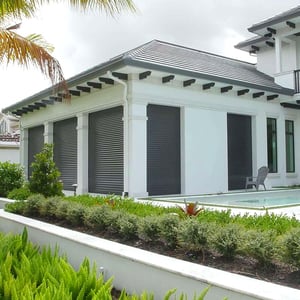 With over six months until next hurricane season begins, there's enough time to create your budget for all the things you need to protect your home from inclement weather. Whether you're in need of hurricane protection for your home, a few more items to add to your hurricane preparedness kit or you need to start from scratch, now is the right time to make a list of what you need and slowly stock up on these items. One of the biggest expenses you may need to budget for is proper hurricane protection, and you have options ranging from permanent to removable solutions, so finding what works for your home (and your budget) is important. You may want to start saving up now, so that in a couple of months, you're ready to shop for hurricane protection. After all, adequate protection should be a top priority.
Learning How to Operate Your Hurricane Protection
Once you have your hurricane protection installed on your home, you'll need to learn how to deploy it correctly, so that come storm time, you won't have to stress about it. Our top choices for hurricane protection include:
AstroGuard Hurricane Fabric

Rolldown Shutters

Accordion Shutters

Hurricane-Rated Bahama Shutters
AstroGuard Hurricane Fabric is a removable option that is installed on the home with specialized clips. If you get your protection early enough, you'll have adequate time to learn how to attach your fabric to the clips properly, so that you've got the process down once a storm is on the way. Don't worry...deploying AstroGuard is easy and requires very little tools.
Rolldown and accordion shutters are permanently attached to your windows and operate a variety of ways, depending on your choice. Hand crank or electric motors are available to effortlessly guide your hurricane shutters into place when needed. Our Bahama shutters are also available in hurricane-rated options. Simply close them when a storm is on the way and their reinforced materials spring into action, protecting your home.
Getting a Game Plan Together
It's important not to wait until hurricane season has started to get a game plan together. That's why now is the perfect time to learn what supplies you need in your hurricane kit, dust off your hurricane shutters and order new protection if needed, learn your evacuation route and more. You have ample time now to get ready, so that when next hurricane season starts, you'll be less stressed and ready for any weather that comes our way.