The benefits of working with a custom window treatment company are abundant. Having window treatment experts involved with your project, whether big or small, makes for a smooth process from start to finish. Interior designers, especially, are quickly learning about the perks of working together when it comes to various window treatments, like custom plantation shutters, blinds and luxury sheers and even outdoor elements, such as exterior Bahamas and Colonials and hurricane protection.
Let's talk about why designers should work with a custom window treatment company.
Expert Design & Experience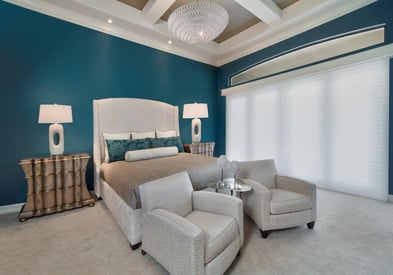 It comes as no surprise that window treatment companies know a thing or two about designing the perfect look for a home's windows. Working with the pros allows you to take advantage of their expertise and experience in this arena, helping you to place this responsibility into capable hands, while you focus your efforts on other aspects of the home's décor. Working with window treatment pros also provides you with a multitude of options for your client, even some that you may not have considered yourself.
The Professional Perks
Another perk of working with the pros is that as an interior designer, you're able to take advantage of competitive prices, not available to the general public. Many window treatment companies offer designer and builder discounts, so you're able to design the perfect window treatments for your client at a better rate.
What to Look for in a Window Treatment Professional
Not all window treatment companies are the same. In fact, they vary greatly, based on experience, craftsmanship, inventory, staff and budget. This is why it pays to do your research before you commit to a company for your client's window treatments. It's important to look for quality. Does the company you're interested in working with manufacture its own products in a local factory? The advantages of choosing a company that manufactures its own products, as opposed to ordering them is the fact that they can be made with precision. This is essential to providing your client with the best possible product.
Also ask yourself if the staff is well-versed in working with the caliber of clients that you have. Can they meet your budget, style and overall expectations? These are very important questions that you need to ask from any professionals interested in partnering with you for a project.
Meeting Your Expectations
Your window treatment professionals must also meet your expectations. You know your client, so that means you know what they're looking for as far as product variety and quality, budget and lead time. You may find the perfect company, only to find out that their lead times aren't going to work with your project's timeline. It's important to shop around and ask the other professionals in your field who they recommend. There may be a company who all of the designers fight to work with or there may be one who they tend to steer clear of. Ask around…you may be surprised at what you hear.
Working with the Pros
To sum it all up, working with a custom window treatment company has its definite advantages. Remember the following when shopping for your pro:
Look for a company that makes its own products locally—there's better quality control and accuracy in their products.
Look for professionals who have experience working with clientele such as yours—they know what to expect and can offer suggestions and recommendations.
Find a company that offers special designer and builder pricing.
Be sure that the company you choose can meet your budget, quality, lead time and overall expectations.
Keeping these things in mind will help you to choose wisely when it comes to the custom window treatment company that can work well with you. Our experts are ready to help. Call us at (239) 566-8161 or visit www.naplesshutter.com to get started.