Picture it…you've created the most relaxing, beautiful spa-like bathroom in your home, complete with a waterfall shower, calming candles, the works, only to find that there's a gaping window that needs to be covered before you can enjoy it! Privacy in the bathroom is an absolute must, especially if your neighbors are close by; however, finding the perfect window treatment that matches your design AND can withstand the elements (tons of moisture) can be a struggle. We've combined our years of experience in the biz to help you pick the right product for you. Here's what you need to know about window treatments for bathrooms. Enjoy!
What Your Window Treatments Need to Do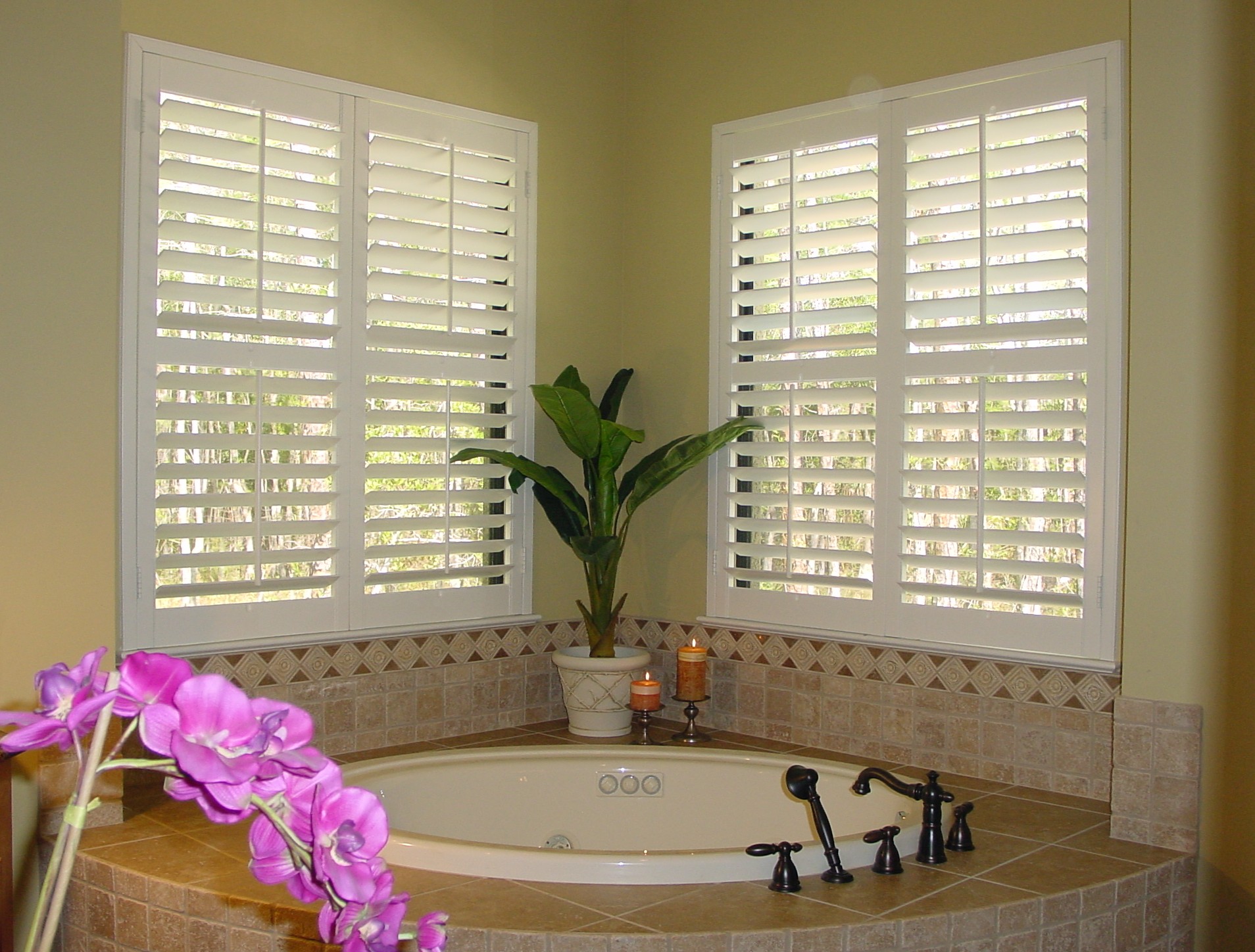 Not only do the window treatments in your bathroom need to provide privacy, they also need to be able to withstand moisture, because let's face it, they're most likely going to get wet…a lot. Traditional wood plantation shutters aren't going to cut it in moisture-prone areas. Their wood will warp over time, causing bowing of the shutter and eventually will result in replacement. However, there are plenty of products on the market that are made just for this. Products, such as the following, are popularly used by homeowners to cover their bathroom windows:
Poly plantation shutters
PVC shutters
Faux wood shades
Roman shades
Depending on your style and budget, there's a look out there for everyone. It's up to you to figure out what you're looking for in your bathroom.
Poly Plantation Shutters
These durable composite shutters are perfect for those who love the look of plantation shutters and want to carry that look throughout the entire house. Using smart synthetic materials, poly plantation shutters are a sturdy option for areas that get wet, like bathrooms and garages. Their design is resistant to warping, chipping and yellowing, and they are easy to maintain. Plus, you can rest easy, knowing that they were made to get wet. Poly plantation shutters are available in two colors, white and off-white, and have a variety of customization opportunities, such as midrails and slider options.
PVC Shutters
For windows that come in direct contact with water, PVC shutters are a life saver! With a rigid polyvinyl chloride (PVC) construction, these window treatments are water-proof and provide ample privacy and insulation in your bathroom. Stainless steel hardware resists rust and the ability to paint in white or off-white gives you the opportunity to continue your plantation shutter look into the bathroom. PVC shutters are available with or without a frame and also in different louver sizes.
Faux Wood & Roman Shades
Blinds are also a popular option among homeowners, as they come in a variety of different styles, colors and textures. Our two favorites are Roman shades and faux woods. Roman shades add an elegance to the room with their soft textures and provide more of a design element to the space. When looking at Roman shades for your bathroom, be sure to select a material that is mildew resistant and can be easily cleaned.
Faux wood shades are also a top pick for this area of the home, due to their versatility and durability. Faux woods have the look of real wood, but can withstand moisture-prone areas, and do not warp, crack or mildew. For a classic look that is both affordable and clean, faux woods perform beautifully in the bathroom.
Window Treatments for Bathrooms
Now that you're armed with a bit more knowledge about what to look for in your bathroom's window treatments, get out there and find a product that complements that relaxing bath of yours! Keep our top tips in mind and choose the right product for you.