It's been over a year now that Hurricane Irma made her debut upon our shores. It's been over a year now that devastation took place. And it's been over a year now that we've been rebuilding together. It seems as though every time we experience a hurricane of Irma's proportions, we learn something new each time. And it also seems as though we band together even more, working to restore Southwest Florida back to what it once was before the storm. It's true...some businesses and homes received devastating damage and are still not yet rebuilt. And it's also true that we're not out of the woods yet. We still have a couple more months of hurricane season left. Here's what we learned from Hurricane Irma one year later.
The Weather is Unpredictable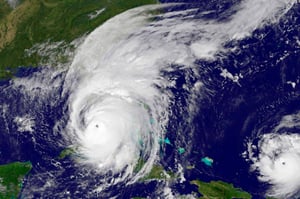 Do you remember the days leading up to Hurricane Irma's arrival? No one was sure which path she was going to take and where she was going to make landfall. Should I stay or should I go? That was a question plaguing most Southwest Florida residents, up until the very day before the storm when we finally knew Irma's impact was imminent. At this point, it was too late to evacuate for some and they had to ride out the dangerous storm. This showed that our weather is extremely unpredictable and that no matter what, you need to prepare yourself for the worst.
Be Prepared for Anything
Preparing yourself for anything has its benefits. We learned from Irma that we all could have probably been a little bit more prepared, and vowed to remember this for the next time. No matter if you chose to stay or chose to evacuate, there were challenges to both. Evacuees were faced with mile-long gas lines as they sped out of the state, not to mention unbelievable traffic. Some didn't even have a plan on where they were going to evacuate to, making matters worse. Those who chose to stay were face-to-face with Irma herself, wreaking havoc on their homes. And it didn't end after the storm. Weeks without power, unbelievably long gas lines and food shortages made life in Southwest Florida challenging for all.
Have a Solid Hurricane Plan
What we learned from all of this was how important having a solid hurricane plan was and what we could improve on for the next storm. Having adequate supplies and proper hurricane protection are among the most life-saving aspects of a hurricane plan. Be sure that you are equipped with the following:
Non-perishable food
Water
Gas
Flashlights & batteries
Fuel, oil, etc for your generator
First aid kit
Deploying properly-fitting hurricane protection on your home is imperative as well. Adequate hurricane protection includes rolldown and accordion shutters, panels that are specifically fitted to your home or hurricane fabric. Ensuring that your hurricane protection is custom-fitted to your windows allows for a proper fit, so that air doesn't get trapped and create too much pressure in the home. This can result in roof lift-off during a storm.
Banding Together is Key
Last, but certainly not least, we learned the power of teamwork. Seeing so many Southwest Florida residents helping each other was amazing, and we definitely saw, first-hand, how teamwork goes a long way. So, remember Irma. Remember what you learned and remember what you said you would improve on for next time. We're all in this together. Let's be sure to help each other no matter what.