You're looking to add a little curb appeal to your home, but aren't sure where to turn. You've seen the house down the street, showing off its new freshly-painted exterior shutters, but you're not sure which type of exterior shutter to choose. Don't worry…there's an exterior shutter type for everybody! Let's talk about the different types of exterior shutters and what makes each type unique. Then, your home will be on its way to looking as good as that home down the street…or better!
Bahama Shutters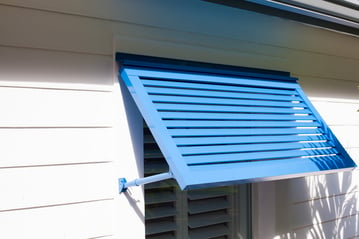 Hinged at the top of the window and propped open with a telescoping arm, Bahama shutters add island flair to the home. Constructed out of durable, extruded aluminum and available in 200 colors, Bahama shutters are a perfect touch to your home's exterior. Bahama shutters are powder coated, which helps maintain the look and durability of the paint for years, so there's no worrying about whether they can stand up to the elements. They can also be fully opened, closed or partially opened to allow as much light as you'd like to enter into your home. Bahama shutters are available in a variety of different configurations, including 1" blade, 2" blade and Z blade, and are also available as hurricane protection with a perforated backing (so light can still get in to avoid that cave-like feeling during a storm), heavy-duty locking mechanisms and upgraded hardware.
Keep these things in mind when considering Bahama shutters:
Helps to reduce energy bills and provides ample shade.
If locked, can prevent unwanted intrusions.
Hurricane-rated varieties are Florida Building Code and Miami-Dade approved.
Easiest form of hurricane protection to deploy (simply swing them shut when a storm is on its way).
Colonial Shutters
Mounted on either side of your window, Colonial shutters can serve a decorative or a functional role in your home. The decorative varieties are stationary and do not open and close; however, the functional choice is hinged on either side, allowing for the shutter to close in the middle. Colonial shutters come in a variety of different configurations, including 1" blade, 2" blade, Z blade, Board & Batten and Raised Panel, and also come in 200 powder coating options. Like Bahamas, you can upgrade Colonial shutters to serve as hurricane protection as well.
Consider these key aspects about Colonial shutters:
Can be decorative or functional, arched or bi-fold.
Multiple configurations available.
Can upgrade to hurricane-rated.
Indoor/Outdoor Cristalum Plantation Shutters
For those who love the clean look of plantation shutters, but need a durable option, Cristalum shutters might be the choice for you. Cristalum shutters are louvered shutters, constructed out of durable aluminum, helping them to withstand the heat and rain in Southwest Florida. Utilized indoors or outdoors, Cristalum shutters have a multitude of benefits, including:
Wood-look makes them appear just like plantation shutters, but aluminum construction makes them durable.
Weather-resistant, able to withstand harsh weather.
Little maintenance needed, except for occasional cleaning.
Exterior Shutter Types & Your Home
As you can see, there are many different types of exterior shutters available for your home. Whether you're looking for strictly decorative or highly functional, there's a choice out there for you. So, let's get your home looking great inside and out!