We're about halfway through Hurricane Season here in Southwest Florida, but that doesn't mean that we're out of a storm's way just yet. With all of the varieties of hurricane products on the market these days, it's tough to figure out the best option to keep both your home and family safe during a storm. Not all hurricane shutters are created equal, so it's important to know what to look for when shopping for hurricane protection. Here are some things to look for in your hurricane shutters.
Types of Hurricane Protection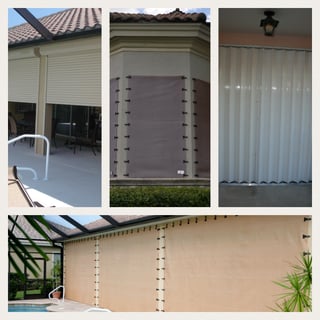 First thing's first…the types of hurricane shutters. From permanent shutters to deployable protection, there's a wide array of hurricane protection out there, including:
Accordion Shutters—Permanently installed using a top and bottom track. Vertical slats open and close with a roller-carriage system.
Rolldown shutters—Operated from inside or outside of the home with a hand crank or electric motor and rolled to any desired position.
AstroGuard Hurricane Fabric—Resin-coated hybrid fabric deployed at storm time, held by strong clips attached to the home.
Impact Glass—Replaces traditional glass over doors and windows and rated to withstand hurricane winds.
Once you know the different options that you'll most likely see as you're shopping for hurricane shutters, you can decide which product is right for you. If you're looking for something easy to deploy that is not permanently attached to your home, AstroGuard Hurricane Fabric might be the right choice for you. If you're more comfortable having a product that's already ready to go at storm time, accordions, rolldowns or impact glass might be your choice.
Hurricane Shutter Capabilities
Your hurricane shutters have a big job to do and that's to keep you and your family safe by keeping your home protected during a storm. Here in Southwest Florida, it's important to look for the following in your hurricane shutters:
Licensed in Collier County (C33855)
Licensed in Lee County (HS10-00217)
Florida Building Code approved
HVHZ (High Velocity Hurricane Zone) approved
Category 5 wind load tested
Also check to be sure that your hurricane shutters are protecting you against wind, rain and flying debris and are installed by professionals who are bonded and insured. Beware of installers who aren't qualified. Improper installation or Ill-fitting hurricane protection creates too much pressure in the home and can potentially blow the roof off during a storm.
Choosing the Right Hurricane Protection
It's important to do your research and choose the best option for your home. We recommend finding a product that meets all of the requirements listed above, is UV resistant so it doesn't break down in the Southwest Florida heat and blocks out at least 99% of rain. Find a product that's easy to store and deploy and know how to properly deploy it when a storm is on its way. Many homeowners choose AstroGuard Hurricane Fabric, because it's lightweight, quick to deploy and easy to store, and it doesn't give that cave-like feeling once deployed, like many common hurricane products do.
Arm yourself with the best hurricane protection out there. Don't wait until it's too late and a storm is already on the warpath. Contact our experts at (239) 566-8161 or visit www.naplesshutter.com to find the right product for you.