When shopping for window treatments, not only are there a multitude of options to choose from, but there are also different styles, price points and product functions as well. Choosing the right window treatments for your home is more than just what looks pretty. After all, it's a choice you're going to have to live with for years, so choosing the wrong fit for your home may have some consequences, and not every window treatment is going to work for you. Let's take a close look at some of the most popular options when it comes to window treatments and talk about the benefits and limitations of each.
Plantation Shutters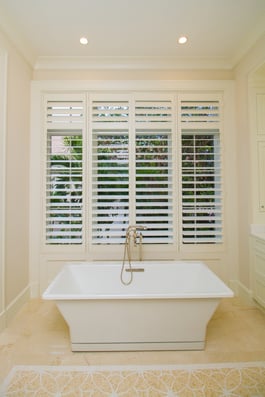 Custom plantation shutters are perhaps one of the most popular options for window treatments, especially here in Southwest Florida. Custom-built to fit your home's unique window design and size, traditional plantation shutters are constructed of hardwood (we use poplar) and come in a variety of shapes, sizes and colors. The most common color that people choose for their plantation shutters is white; however, some clients choose to paint them to match their trim or stain them to match a piece of furniture in the room. Louver size (those are the slats that tilt open and closed), midrails (the horizontal bar running across the middle of the shutters) and tilt rod options (standard or hidden) can also be customized based on the look and functionality that you desire.
Blinds & Shades
Blinds and shades are also popular choices among homeowners, due to the variety of options, styles and colors. Choose from a more basic honeycomb design to a more complex luxury sheer, and everything in between. There are more colors to choose from as well, so if you're going bold, you can choose from a multitude of different color options, ranging from hot pink, to lime green to purple. If you want to add a little bit of texture to the room, try looking into woven woods, which are composed of different materials, such as grasses, bamboo and more. Blinds and shades have a variety of operating styles as well, such as traditional pull cords, hidden cords and newer motorized options that make it easy to open or close your blinds with just a tap on your smartphone or tablet.
Draperies & Soft Treatments
Perhaps more of a traditional option, draperies and soft treatments are indeed making a comeback in more contemporary styles. Add style and texture to the room by incorporating different fabric designs to complement the space and upgrade to designer hardware to add a bit of flair.
Window Treatments: The Good, The Bad, and The Ugly
Now that we've gone through some of your options when it comes to window treatments, let's talk about advantages and disadvantages of these popular choices.
Plantation shutters are a top choice, due to their solid construction, but tend to come at a higher price point than other options.
Blinds and shades are versatile in their color and style options, but depending on which product you choose, they may need to be replaced more often than plantation shutters.
Drapery treatments are a good way to add style to a space; however, some varieties tend to be a little too cumbersome for many homes.
There you have it…your complete guide to common window treatments. Remember to take your time, analyze your budget and consider your wants and needs, and you'll be on your way to choosing the best product for your home.