If all that's happened in 2020 was going to be any indication of how hurricane season was going to go, it's no surprise that this season has gotten off to a very strange start. During hurricane season, which runs from June 1st through November 30th, anything can happen, and each season is typically different from the last. That's why it's difficult to accurately predict the season too far in advance and many updates are given throughout the season to keep those affected informed. This year has shown us some unusual happenings when it comes to storms, landfall and weather patterns, which have gotten many meteorologists talking...2020 is quite the year indeed!
Here are the top unusual occurrences during Hurricane Season 2020...so far.
Wisconsin Experiences Cristobal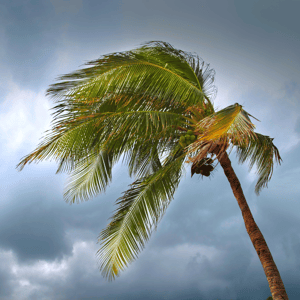 It's not uncommon for remnants of a storm to track through states, other than Florida, Texas, Louisiana and the Carolinas. Wisconsin has seen remnants of three other storms throughout the years, but this year has proven to be different. This year, Tropical Storm Cristobal traveled the entire length of the state as it made its way to the Upper Peninsula of the Michigan border, making it the farthest west a storm has ever traveled in the state of Wisconsin. The last storm that graced Wisconsin with its presence was Hurricane Gilbert in 1988.
Early Storm Formation
Storms couldn't even wait until the official start of hurricane season to begin forming! Maybe they were eager, but Arthur and Bertha were the first named storms of the season, both forming in May. Although this has happened before, these storms formed unnaturally early; Arthur formed May 16th and Bertha right behind on May 27th. Prior to 2020, there were only four other seasons which saw storms of tropical storm intensity form before Bertha on May 27th.
All Storms Have Impacted the U.S. Thus Far
We normally see a decent amount of storms during the Atlantic Hurricane Season, many of which impact countries, besides the U.S. This year; however, all three named storms have impacted the U.S., which is considered unusual. Cristobal had the most widespread effects on multiple parts of the country, whereas Arthur brought copious rainfall to North Carolina's Outer Banks and Bertha made her debut in South Carolina.
Bertha's Transformation
Speaking of Tropical Storm Bertha, let's talk about last-minute formations. Although experts had their eyes on Bertha briefly as she was hanging out in the Atlantic, it wasn't long before she went crashing into the South Carolina coast. Developing at 8:30 a.m. (EST.), it was only an hour later that she made landfall outside of Charleston with maximum wind speeds of 50 mph, bringing flooding all the way down to much of South Florida.
How You Can Prepare
So, what do all these unusual occurrences mean for the remainder of Hurricane Season 2020? It's unclear, but due to these unsteady storm patterns and spontaneous activity, it's important to be prepared. Remember the following to ensure you and your family stay safe:
Invest in proper hurricane protection for your home.

Construct a solid hurricane plan.

Be sure your hurricane kit is ready.

Know your evacuation route.
Think about it, although Tropical Storm Bertha wasn't the strongest storm ever seen, her quick formation gave Charleston residents little to no time to prepare. You may not always get multiple days to prepare for a storm, so ensure that you're ready now with proper protection and a solid plan.