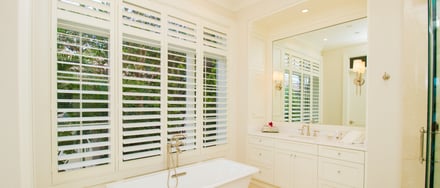 There are many custom plantation shutter manufacturers in the industry these days. Some companies make their own custom plantation shutters in their factory, while other companies order from a plantation shutter dealer. Some companies offer a warranty, while others may not, and while some may have shorter lead times than other companies, it doesn't necessarily mean you're getting a better product. We're here today to showcase why choosing a company that goes the extra mile is important. At Naples Shutter, we take extra steps in order to ensure that the best quality products are leaving our facility.
We're talking about the Naples Shutter Difference. Here's how it works…
Naples Shutter Difference #1: Clamping Overnight
To ensure that your shutters fit correctly in your windows and maintain that fit for years to come, our factory clamps the shutters overnight. This gives the rails and stiles (the top, bottom and sides) of the shutter a full 24 hours to set, avoiding any problems later on. This helps to avoid the shutter falling out of square and prolonging the installation process. Waiting until the shutters are ready to move on to the next phase of the production cycle sets Naples Shutter apart from its competitors.
Naples Shutter Difference #2: The Inspection Process
Unique to Naples Shutter is its inspection process. This is especially important as it catches any imperfections in the shutter or the paint before the product even leaves the facility. Other plantation shutter companies simply pick up the product from the painter and deliver it straight to the client's home to be installed. Naples Shutter pioneered the inspection process to be able to ensure that every client is perfectly satisfied with their plantation shutters. If there are blemishes in the paint, the inspection department finds them and sends the product back to the painter. Everything is double-checked before the shutters are presented to the client.
Naples Shutter Difference #3: Environmentally Friendly Paint Booth
Not only is Naples Shutter one of the only companies to operate its own paint booth, they also paint with environmentally friendly water-based paint. This helps to alleviate the issue of harmful chemicals often found in conventional paint products, making this a much safer option for client homes. Water-based paint also creates a clean, seamless look. Another benefit of this paint is that it allows the product to become available for installation quicker, as it dries faster than its conventional paint competitors. This helps Naples Shutter provide better quality control and quicker turnaround times for its products.
Experience the Naples Shutter Difference
It means a lot to a client when their plantation shutter manufacturer goes the extra mile to make sure they're happy and satisfied. With our experts having years of experience in the industry, we've learned a thing or two about what makes our clients happy. So remember, the next time you're looking at plantation shutter manufacturers, ask yourself the following:
Do they clamp the shutters overnight?
Do their products pass through an inspection process?
Do they have control of their paint booth and paint with environmentally safe paint?
Choosing to install custom plantation shutters in your home is a great decision and hopefully one you'll be satisfied with for years. Make sure you choose a company that you're comfortable with and that offers a superior product. To get started with our experts, call (239) 566-8161 or visit www.naplesshutter.com.