Now that Hurricane Irma's wrath has passed and most of us are getting back to normal life once again, it's time to start taking care of the aftermath. Your storm shutters may have taken quite a hit during the recent storm, which means that maintenance and repair are needed. Ongoing maintenance is crucial to the longevity of your hurricane protection, no matter which type you have. Here are our top tips for storm shutter maintenance and repair.
The Purpose of Storm Shutters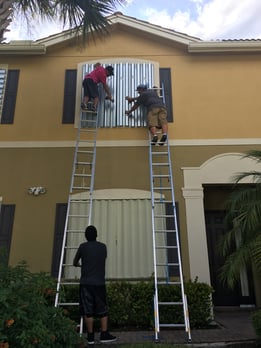 Let's start with the basics. We all know that storm shutters protect your home and family during inclement weather, but what exactly does that mean? Storm shutters protect you from flying projectiles during high winds and help prevent moisture from getting into the home. Another crucial responsibility of hurricane protection is to prevent the rapid pressurization build up in the home, which results in roof lift-off. Improper installation of your storm shutters or ill-fitting shutters can result in this dangerous situation.
There are various types of hurricane protection, including:
AstroGuard Hurricane Fabric: A resin-coated hybrid fabric which is attached to the home at storm time, using specialized clips.
Rolldown Shutters: Permanently installed on the home and controlled from the interior or exterior of the home, using a hand crank or electric motor.
Accordion Shutters: Permanently installed on the home. Shutters are attached to a top and bottom track and utilize a stainless-steel roller-carriage system.
There are other types of hurricane protection on the market as well, such as impact glass and of course less safe methods, like plywood, which is not recommended, since a proper fit on your windows can't be guaranteed.
Storm Shutter Maintenance
The key to having fully functional hurricane protection when a storm's impact is imminent is proper ongoing maintenance. For metal shutters, such as rolldowns and accordions, it's imperative to keep the metal tracks clean and free from debris, like dirt, salt and insects. Lubricate the tracks and the screws at least twice per year and be sure to operate the shutters once per month to make sure they are operating correctly and not dirty with debris. Avoid abrasive cleaners and use clear silicone sprays to lubricate them as well.
For products, like AstroGuard Hurricane Fabric, it's important to keep the fabric panels clean and dry. Use a gentle cleaner (like dish soap) to clean the fabric and make sure that it is fully dry before storing.
Storm Shutter Repair
If properly installed, your storm shutters will do their job, but it may come at a price. Once a storm has passed, it's important to inspect your hurricane protection to make sure that it's not damaged. Don't just put it back in storage if it needs to be repaired. Be sure to schedule a reputable hurricane protection company to repair your shutters correctly. Do not try and do this yourself. It's imperative that a professional analyze and take the proper measures in order to make sure that your storm shutters will do their job the next time they are deployed.
Storm Shutters & Your Safety
Maintaining and properly repairing your storm shutters is crucial. Failure to do this can result in devastation when the next storm passes through. Having adequate hurricane protection is very important, especially in Southwest Florida. Talk to your local hurricane protection provider about your best options when it comes to protecting your home and family.