The time has come. Hurricane Season 2020 has now arrived, and that means hurricane preparation should be a top priority from now until the end of November when the season officially ends (although we always recommend to stay prepared all year long!). You may have been keeping up with our hurricane preparedness blogs, which feature some helpful tips and information about how to properly prepare for inclement weather. There are a lot of things to keep in mind during this time of the year, but one thing may be at the top of your list...your hurricane protection. You may know by now that we believe not all hurricane protection is created equally, and some forms just provide better protection than others. One of the main areas that tends to suffer during severe weather is the lanai, and many homeowners are desperately seeking a product that can protect this area of the home.
Protecting your lanai during hurricane season is easy...with AstroGuard Hurricane Fabric!
About AstroGuard Hurricane Fabric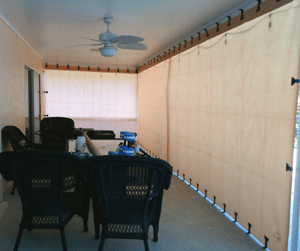 AstroGuard Hurricane Fabric is different from all the other forms of hurricane protection in a lot of ways. First and foremost, it's a resin-coated hybrid fabric that is 40% stronger than polypropylene, delivering a full envelope of protection for your home. If you read our blog on the worst types of hurricane protection, you may have learned about roof lift-off, which is one of the most devastating outcomes of a hurricane. AstroGuard is securely fitted and measured specifically for your windows, helping to eliminate pressurization from building up in the home, which causes roof lift-off. AstroGuard Hurricane Fabric can be used for total home protection, especially in lanai areas.
Benefits of AstroGuard Hurricane Fabric
AstroGuard is 200 mph Florida Building Code approved, which means that it can stand up against even the most severe hurricane force winds. The main benefit that many homeowners gravitate toward is the fact that they don't have to worry about locating their storm panels and trying to get them installed during the chaos of preparing for a hurricane. Other benefits of AstroGuard include:
Lightweight and more affordable than traditional hurricane shutters

Large spans to go in between exterior columns and large spaces

Allows light filtration (as opposed to the dark, cave-like feeling of traditional hurricane protection)

Easy to deploy & no worry about cutting your hands with metal panels
Not only does AstroGuard protect your home (lanai area included) better than other forms of hurricane protection, you also get to take advantage of the perks that go along with using this form of protection for your home at storm time.
AstroGuard & Your Lanai
So, how is AstroGuard a better choice for your lanai? One of the main concerns during a hurricane is what to do with all the items that you typically store outside. If you've ever been through a severe storm, you know that everyday items have the potential to be launched with extreme force, causing catastrophic damage, not only to your home, but your neighbors' as well.
With AstroGuard, there's no need to worry about your lanai items. Simply, leave all of your lanai and pool furniture in place and deploy your AstroGuard Hurricane Fabric. AstroGuard also protects vulnerable ceiling fans, grill areas and more, so that when the storm passes, you're not left with a mess to clean up. AstroGuard can also be used to protect impact-rated sliding glass doors, which can be quite expensive to replace once damaged.
When it comes to the safety of your home and the protection of your lanai during a hurricane, no other product works better. Trust in AstroGuard Hurricane Fabric for total home protection and rest easy knowing that your home is protected with the best product on the market.