With so many hurricane products on the market today, how can you tell which is best for your home? It's a big decision. After all, this is your home and when a storm's arrival is imminent, you need to make sure that you're prepared. Having proper hurricane protection could mean the difference between safety for you and your family and devastation.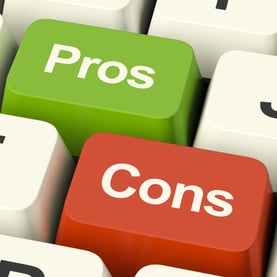 A popular choice for hurricane protection is AstroGuard Hurricane Fabric, and for many homeowners, they wouldn't trust any other product. Let's talk about why it could be the best choice for your home.
AstroGuard Hurricane Fabric: What It Is
This resin-coated hybrid fabric provides unmatched protection during storm time. AstroGuard Hurricane Fabric is 40% stronger than polypropylene, a common component in many other fabrics, more durable and more affordable than many of its hurricane product counterparts. Deployed over windows, doors, lanais and other openings during storm time, AstroGuard protects against wind, water and projectile damage.
When properly deployed, AstroGuard Hurricane Fabric prevents against pressurization buildup, which is the leading cause of roof lift off and damage during a storm. So what's great about it and what's not so great about it?
PRO: AstroGuard Hurricane Fabric Is Easy To Deploy
Weighing in at only eight ounces per square yard, AstroGuard is a breeze to deploy, or in simple terms, put up. Lightweight and manageable, all you need is a screwdriver and you're on your way to protecting your home.
CON: AstroGuard Is Not Permanently Installed On Your Home
Unlike rolldown shutters that roll up into a specialized casing installed at the top of your windows, AstroGuard fabric will need to be attached to its anchors manually.
PRO: AstroGuard Is More Affordable
Not only is AstroGuard one of the most affordable options when it comes to hurricane protection, it can save you money in the following ways:
Reduces your homeowners insurance.

Saves you money on storage, as it folds up neatly into its own storage bag and doesn't require you to rent a storage unit or clutter up your garage.

Reduces the need to hire a handyman to deploy. It's lightweight and easy to manage yourself!
CON: Not Many Color Choices
It's true that there aren't many options to spruce your house up once deployed and many homeowners associations have strict rules about hurricane protection, even which color you choose. Typically, you can find AstroGuard in black, white, or most commonly, tan.
PRO: AstroGuard Is Stronger Than Its Competition
Test lab footage has proven that AstroGuard Hurricane Fabric can outperform metal shutters, other fabrics and plywood in strength and durability testing.
CON: AstroGuard Is Unlike All Other Hurricane Protection
Unlike traditional hurricane shutters that clip onto an already existing track or roll down from an already installed unit, AstroGuard has a patented clip, biting the fabric without ripping it, that fastens to the outside of your home. It's different from the competition, and that can sometimes make people weary of trying something new.
Choosing The Right Product
When it comes to choosing hurricane protection, do your research! Choose a product that you feel confident in, one that will keep you and your family safe should a hurricane head your way. Storms are unpredictable, so be prepared. Make sure you have a hurricane preparedness kit in your home as well. You can never be too prepared when it comes to a hurricane.