Often times, when we're looking at what window treatment product will work best for our homes, we look for a product that meets certain criteria. For instance, some customers look for a product to solely enhance the look of the space. Others are more practical and look for something to enhance the space and provide functionality. What if there was a product that offered both?
Let's talk about the Hunter Douglas Silhouette Duolite.
Hunter Douglas Silhouette Duolite: What It Is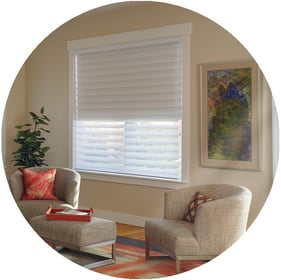 Like any shade, the Silhouette Duolite has a purpose of providing privacy to a room, but here's what sets this shade apart from others of its kind. The Silhouette Duolite combines the Hunter Douglas Silhouette product with an independently operated room-darkening roller shade that is situated behind the Silhouette shade on the same headrail. Being able to operate the shade in two different ways allows you to have the best of both worlds: privacy when you need it and room darkening when you want a little more.
Hunter Douglas Silhouette Duolite: How It Works
To operate, lower the Silhouette shade and ensure that the vanes are in the open position. Once the vanes are positioned correctly, the room darkening roller shade can be positioned any way you'd like. Position the roller shade at any height on the window to allow light control and privacy flexibility.
Benefits of the Hunter Douglas Silhouette Duolite
By reducing the light that filters into the room, the Hunter Douglas Silhouette Duolite has many benefits, such as:
Providing a perfect space to get better sleep

Lowering energy bills by keeping the room cooler

Protecting furniture and other possessions from sun damage

Creating a great place to enjoy movies or any other activity that requires room darkening
What Makes It Different?
The Hunter Douglas Silhouette Duolite differs from the standard Silhouette product. The standard Silhouette features the same soft, adjustable fabric vanes that are positioned between sheer fabric panels, but unlike the Duolite, the standard Silhouette does not have a roller shade nestled behind it to provide a room darkening option. Privacy is achieved with both; however, room darkening is only achieved with the Duolite option.
The Best of Both Worlds with Duolite
It is true that you can have the best of both worlds with the Hunter Douglas Silhouette Duolite, voted 2015 Product of the Year by the Window Covering Manufacturers Association. Adding the Duolite option to a shade helps to achieve a 'day/night' level of convenience, which provides countless opportunities for privacy and light control.
If the Silhouette shade isn't your first choice however, there are a number of shades that work with Duolite. Being able to pair the Duolite option with the shade that works best for your home is a great combination.
The Duolite option is also available in the following shades:
So go ahead...enjoy having it all! Maintain privacy and enjoy room darkening with the Hunter Douglas Silhouette Duolite.