Few window treatment products establish themselves as functional and stylish. For many homeowners, choosing a window treatment can be a challenge – you find something that looks nice, but doesn't do its job properly or you find something that functions perfectly, but just doesn't have the look you desire. This month's product spotlight focuses on a versatile and beautiful shade, the Hunter Douglas Pirouette.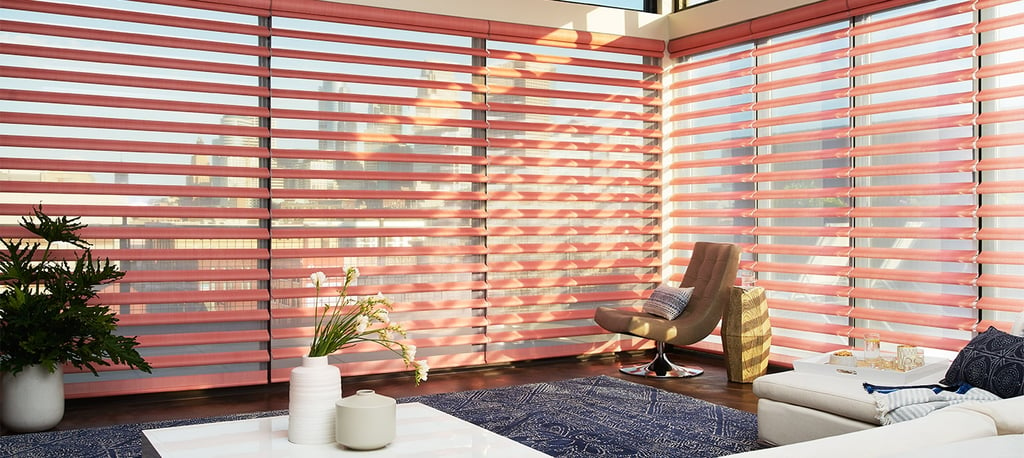 Let's talk about why this may be the perfect shade for your home.
What is the Hunter Douglas Pirouette?
The Pirouette products from Hunter Douglas are the ultimate shades for versatility and style. The Pirouette's sleek design make it a must-have in the home, featuring horizontal fabric vanes which are attached to a sheer backing. This allows the shade to provide exceptional views, yet offer privacy without sacrificing beauty on the inside. You can finally have a shade that blocks light, as well as enhances the inside look of your home.
Options and Benefits of Pirouette Shades
With a multitude of options to choose from, Pirouette shades are found in many Southwest Florida homes. New fabrics introduced recently channel organic beauty and feature silk and linen designs, as well as a refreshed color palette, featuring 44 new color hues, including:
Relaxing neutral tones
Sophisticated mid-tone colors
Bold color pops
With a complete new spin on this classic shade, you're sure to love the variety of colors and options to add a hint of pizazz to your windows. Another great feature of Pirouette shades is the ability to block out the sun's harmful UV rays by utilizing the light-blocking fabric backing on the shade. This also helps to diffuse light, providing for better ambiance in the room.
Pirouette Operation & Design
Imagine having a shade free from dangling cords and unsightly operating mechanisms. With the Invisi-Lift option, cords are not an issue, allowing you to enjoy the view through the Pirouette's sheer fabric, without any obstructions. You can also choose from other operation options, such as EasyRise, which utilizes cord loops, UltraGlide, which utilizes a retractable cord and of course, PowerView, which allows operation from your smartphone, tablet or remote.
Choose to cover even the most unusual window shapes. Pirouette shades can be customized to fit arches, angled windows, circles, ovals, French doors, sliding glass doors and more. Pirouette shades are also soil and dust resistant, therefore requiring minimal cleaning, due being treated with materials to repel dirt, dust, oil and more.
Other Benefits of Pirouette Shades
Standard safety features of Pirouette shades include cordless and motorized options, which are recommended for homes with small children, as cords could be hazardous. Pirouettes are also GreenGuard Certified, which verifies that this product has met strict air quality standards for low indoor chemical air emissions. And as with all Hunter Douglas products, Pirouette shades come with a lifetime guarantee.
Pirouette Shades: The Right Choice
If you're looking for a shade that not only looks great, but offers light control, privacy and more, Pirouette shades are a great fit for you. The experts at Naples Shutter are here to answer any questions and to get started on your window treatment project. Call (239) 566-8161 or visit www.naplesshutter.com to get started!