If you're looking to get excellent UV protection while maintaining your beautiful view, there are a number of window treatments to consider. One of our favorites is the Hunter Douglas Designer Screen Shade. Versatile and stylish, these designer screen shades offer light control, privacy and protection from the sun's harmful UV rays. Designer screen shades offer sophisticated shade and come in a variety of different styles, colors and operation options. Let's take a look at why Designer Screen Shades by Hunter Douglas might just be your perfect fit.
Designer Screen Shades: What They Are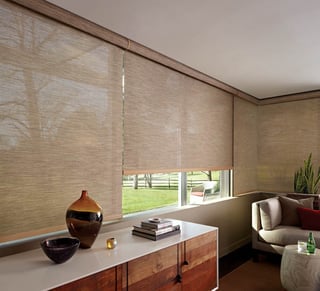 Screen shades are designed to roll down on the window and are operated by a clutch system. Hunter Douglas has designed a custom clutch system in its newest selection of designer roller shades, featuring smooth, seamless operation. They are also easy to lift and offer the smallest light gap in the industry. Designer screen shades are more than just a window treatment, they're the source of protection for your belongings and for your privacy. Let's delve deeper into why these shades are such a great choice for your windows.
Benefits of Designer Screen Shades
Designer Screen Shades from Hunter Douglas don't just look great, they're extremely functional as well. These shades offer superior protection (up to 75%) from the sun's harmful rays, helping to protect your furniture, artwork, flooring and other valuables from fading and other damage. They also maintain privacy in the home, while offering extreme style with a multitude of style options available.
Your Options with Designer Screen Shades
Customize your designer screen shades to fit the look and feel of the space by choosing from a number of different color options and styles. Upgrade your look by choosing from Hunter Douglas' wide array of top treatments to conceal the clutch mechanism, making for a cleaner look. Add a custom fabric at the top to complement the shade or choose from a wide variety of bottom treatment options to complete the look.
Designer Screen Shades Operation Options
Not only do you have options when it comes to style, color and various upgrades, you can also choose from different operating systems, such as:
PowerView®- A wireless operating system that gives you the option to control your shades from your smartphone, tablet or remote.
UltraGlide®- Operate your designer screen shades with a retractable cord, allowing you to raise or lower your shades without the look of dangling cords.
LiteRise®- This cordless system operates by pushing the shades with your hand to raise or lower them with ease.
Cordless- This traditional spring-assist system allows you to easily raise and lower your shades, providing child and pet safety from dangling cords.
Custom Clutch- A standard clutch system operates with a beaded continuous cord loop.
Designer Screen Shades & Your Home
As you can see, Designer Screen Shades by Hunter Douglas not only protect you and your home from the sun, they also offer complete privacy and light control with a variety of different operating systems. Choose the style, color and system that works for you and your budget and have peace of mind knowing that Hunter Douglas provides a lifetime guarantee behind their products.
We can't wait to get started with you! Find the window treatments that best suit your home. Call (239) 566-8161 or visit www.naplesshutter.com to learn more.